Finance Directors play a crucial role in monitoring all financial aspects of the company. Aside from each company's mission, the end goal for any GreenTech business is also to be profitable, so hiring a well-skilled Finance Director is fundamental for the business' long-term success and continuous profit growth.
In order to hire the best Finance Director for your company, you need to consider both what your company needs and what it expects from its new employee. Therefore, getting a good grasp of the role's general responsibilities, as well as both technical and soft skills needed to perform well in this role will be a good starting point.
The responsibilities:
Though the job description varies depending on each company's needs, there are certain tasks and responsibilities that are typical for this role. Tasks such as budgeting, managing and forecasting cash flows and reporting on monthly or quarterly results, to then present the numbers to the board, are quite standard to any company.
These are just a few of the most common responsibilities of a finance director, however, there are a lot of other tasks that this role can entitle. Essentially, anything that is finance-related within the company should be dealt with by the finance leader and the rest of the finance team. Because it is quite a high-pressure role with a lot of responsibility, finding the right person for the job will save your company a lot of trouble.
Skills required for a finance director role:
Because the role involves dealing with numbers on a daily basis, a finance director is required to have strong accounting knowledge and, potentially, a professional accounting qualification such as a ACA, ACCA or CIMA. They should also have considerable knowledge on how to work with Excel, as that will potentially be their most-used platform, and general wide experience with numbers, whether that is in a finance, accounting or audit position.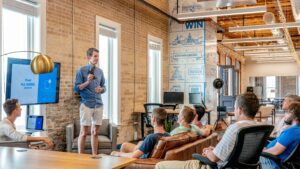 Most companies also require some experience with AP (accounts payable) and AR (accounts receivable), a part of the company's balance sheet that measures how much money the company owns and how much money the company has the right to collect. 
In terms of soft skills, a finance director should have strong communication skills so they can easily liaise with other teams and best represent the company to external people. Because the role will most likely include speaking on behalf of the company and presenting findings to audiences, strong presentation skills and a good level of confidence are also required to perform well.
As with any management position, effective leadership is fundamental to keep the finance team motivated and satisfied in their current role. A good finance leader should be able to build and maintain good relationships with their team and to effectively oversee all the work they are doing, genuinely caring for the team's wellbeing and performance. 

Interview questions for a finance director:
Interviews are the best chance to find out more about the candidates and explore the experience stated in their resumes. Therefore, preparing some interviews questions beforehand in order to obtain all the relevant information you need to make your decision will facilitate the process and help you choose the most suitable person for the role.
Ask your candidates to elaborate on their past experiences with financial reports and what technologies they have used. Test their decision-making skills when there is missing data or wrong information, for example, to see if they are quick to respond to problems and come up with effective solutions.
During an interview, it is also important to test the candidates' people skills to check if they have what it takes to manage a team and work in a high-pressure environment. Last but not least, ask the candidates why they chose to work for your GreenTech company and give them the opportunity to show their passion for the industry.
If you are looking to hire a finance director to lead your Financial team, Storm4 can help you find highly skilled and specialized GreenTech talent. Drop us a message here and our consultants will be happy to help you go through the hiring process and choose the most suitable person for your business.