Job boards have seen a 500% increase in searches for roles that offer remote options, with 25% of US workers claiming they would quit their jobs if they couldn't work from home.
With such astounding figures, will there ever be a business case strong enough in favor of returning to the office?
As the Covid-19 pandemic subdues and vaccination rates increase, the approaches companies are choosing regarding the office return are distinctively different. Some leaders dub remote work as an 'accelerated trend', hindering idea generation and restricting mentorship for young workers, whilst others champion remote work, offering more autonomy and a better work-life balance.
Weighing the pros and cons of remote vs in-office working models will be the biggest test for companies to swerve the 'great resignation' cycle and retain talent who have grown accustomed to the perks of remote work.
As the remote vs in-office debate continues, we explore both sides to the argument and detail the key factors to consider for the leaders figuring out what the post-Covid workplace looks like.
Is remote work here to stay?
34% of US employees would prefer to stay fully remote compared to 39% of US employers who require returning to the office full time. With such a growing disconnect between employees reluctant to return to their desks and executives pushing to get them back, who has the final say?
Remote vs In-office Expectations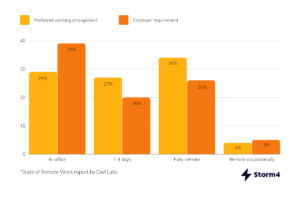 For the most part, employees applaud the new norm, offering a reprieve from long commutes and lost time with family, with 82% of remote workers reporting lower levels of stress compared to working in an office environment. Remote models allow workers to move to other potentially less expensive or more desirable locations, further from city centers or office complexes.
"When Microsoft announced its new guidelines to work from home full time or move to a new location, I decided not to focus on what I was losing but rather what I was gaining. Although I was giving up face time with co-workers and senior leaders at the company, the opportunity to live wherever or move around was not something I wanted to miss out on", Software Developer employee, Microsoft.
Work-life balance advocates argue that remote business models aren't just appeasing employees, but can be advantageous for companies too. Fully remote workforces allow employers to tap into a much larger talent pool, making the company the most important factor in attracting talent.
But CEOs are worried. They argue for younger workers just starting out, it's almost impossible to cultivate relationships over Zoom, Slack or Microsoft Teams and connect with mentors — something that has proven to be especially beneficial to empower careers. Onboarding new employees will be difficult to recreate virtually, whilst remote work can undermine the character and culture a company is attempting to build.
Should where you work affect your salary?
Almost 50% of US employees would happily take a 5% pay cut to continue to work remotely at least part-time in the future. Some CEOs agree, saying that remote workers should see a cut in pay, whilst some take an even harder stance and believe employees who don't return to the office should be demoted.
Remote vs In-Office Pay Cuts Offerings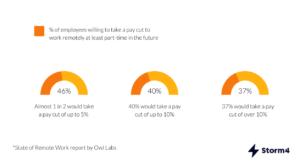 Experts warn the repercussions of imposing pay cuts for remote workers is a dangerous game to play in the eyes of the law. For example, employers could breach equal pay laws if remote employees are paid less to do the same work as their in-office peers — especially if more women than men have opted to work from home.
In some cases, the pandemic resulted in cost savings for employees, who didn't need to pay for their commute to work, lunch, coffee and other expenses. Some workers moved away from expensive cities to areas with lower costs of living, or to live with relatives. As a result, some executives have suggested that salaries should shrink to reflect the decline in their expenses.
How to figure out what's right for your company?
Employers expect nearly 2 in 5 employees will still be working remotely at the end of 2021. For companies that are trying to figure out the right balance, or debating whether to go back to the office at all, here are some key considerations to help determine what will be successful in a post-Covid world.
Rethink the workplace
Going back to a typical 9-to-5 workday may become a thing of the past. Even for those companies that are planning a return to the office, it could still take time to unwind the change in office culture. More and more companies are introducing flexible scheduling, staggered shifts and hot-desking to help keep workers spaced out and lower the overall density.
Be transparent when hiring
With as many as 8 in 10 companies hiring in 2021, it's important to have open discussions about short and long term expectations with potential employees. If a remote role at present will later require in-person work, that needs to be communicated from the get-go.
Encourage health compliance and vaccines
In-house safety initiatives will be crucial for making employees feel safe and protected, such as developing health and wellbeing programs for its employees and offering onsite vaccinations when they become available.
Keep in mind company needs
Though it can seem like an agonizing decision, the process of deciding if and when to go back to the office will look different for every company. There is no one size fits all approach to returning to work and every organization has unique needs to sustain business continuity without compromising the health/safety of the workforce.
What does this mean for the CleanTech industry?
In light of the success of the work-from-home experiment, salaries and compensation are being reassessed. Lockdowns across the US resulted in 42% working from home full time (as of June 2020), many employees still continue to call home the office.
Across the CleanTech landscape, the remote-work trend is taking precedent. Not only this, but it seems that salary levels are no longer tied to the pay ranges of high-cost areas, with many remote workers now being paid relatively the same to work for a GreenTech, anywhere in the US.
Check out the below statistics and trends to learn more about the current position of remote vs in-office salaries in the US.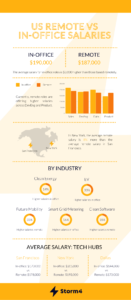 If a 9 to 5 Monday through Friday working model is one for the history books, the decision leaders make will positively or negatively affect attracting and retaining talent and leading the market on competitiveness and innovation. Despite what argument of the remote vs in-office debate you champion, we are at a critical turning point to create a workplace that truly works for both companies and employees.
If you are looking to attract talent in a post-Covid world, get in touch! We connect senior talent with pioneering CleanTechs on a mission to accelerate a sustainable future.