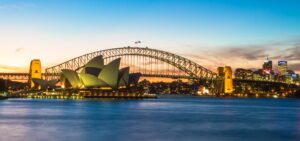 Australia is on track and determined to become one of the top global players when it comes to Tech. The country's most successful tech start-ups come from sectors where the traditional Australian economy excels: Mining and Lending, for example, are the two largest industries when it comes to their share of GDP. Australia has consistently demonstrated that it can create and develop tech and software companies while attracting and securing the necessary VC funding to scale them. The Tech Council of Australia's 2022 report points out that AgTech, EnergyTech, and EnvironmentTech are among the industries that have the potential to be the catalysts of Australia's next tech boom, resulting in industry growth, job creation, investment, and global economic impact. However, GreenTechs Down Under require more systematic support to achieve global scales.
TCA categorizes AgTech, EnergyTech, and EnvironmentTech as sectors with favorable incubation characteristics, meaning Australia is an attractive market to launch businesses that can then be scaled outside of the home market. While favorable incubation means GreenTechs are already a step ahead, more domain expertise is required. How can Australia address this gap?
Market capitalization, investment in the sector, research, a large pool of domestic consumers, and highly experienced talent are all signs of domain expertise. Below we take a closer look at how GreenTechs are doing in each area and what can be done to improve.
Capital Raising in GreenTechs
From 2017 to 2021, Australian VC funding in AgTech, EnergyTech, and CleanTech amounted to $1.8 billion AUD, compared to $4.9 billion in the FinTech sector. While this is not a negligible figure, GreenTech startups must be prepared for the decline in capital raising brought on by the recession that has started to affect all sectors globally. On a more positive note, set on ushering in a "new era" of climate action, the Albanese Government announced a $500 million AUD investment in the Powering Australia Technology Fund late last year. This move also aims to leverage another 500 million from private investors to support Australian businesses in developing and scaling of projects and technologies to reduce emissions.
Research and consumers
In 2009, the Intellectual Property Office of Australia announced a fast-track examination policy for patents relating to green technology to enable green products to reach consumers at a faster rate. As of 2020, Australia did not feature among the top ten countries filing for green patents but is ranked 17th globally when it comes to Electric Batteries patents.
While additional efforts in research may be required, Australia is a nation of early-tech adopters. The Land Down Under was tied in first place with Singapore and Sweden for Tech readiness, scoring high across all segments of this category. This is incredibly exciting for all GreenTechs launching products into the Aussie market.
Expertise and skilled talent
Though still in its early stages, Green Entrepreneurship globally are growing at a faster rate than overall entrepreneurship. Australia is already paving the way when it comes to "greening" jobs and adding green skills in all sectors of the economy. According to LinkedIn's Global Green Skills 2022 report, the average job in Australia uses roughly two to three times more green skills than the global median, and the country is ranked third in this segment (after the US and the UK). In particular, the Agricultural industry showed great progress: green skills related to sustainable agriculture grew consistently between 2016 and 2020 at a rate of 12% annually (compared to 3% globally).
Unfortunately, Australia's talent pool lacks one thing: numbers. Facing a widely reported talent shortage as a result of the COVID-19 pandemic, businesses from all across the country are struggling to fill vacant roles.
We have put together practical hiring tips for Australian CleanTech organizations to navigate the current talent crisis.
1. Identify the non-negotiables of a role and be creative
When looking at a role, identify the non-negotiable skills or characteristics of the role. What does the candidate need to know and what can they learn from us? Once these have been identified, we recommended being more flexible when it comes to where candidates are sourced. Leverage expertise and resources from adjacent sectors and shift your focus to the long-term potential of the candidates in your business.
2. Develop a recruitment strategy and explore multichannel recruitment
Traditional avenues of recruitment, such as existing networks or job advertisements, are not as effective given Australia's current hiring environment. The more resources at your organization's disposal, the better. Explore other avenues, develop a strategy with your in-house talent acquisition team and speak to external recruitment experts.
3. Make sure continuous learning and development are a priority in your company culture
Studies are finding that employees are pivoting to other companies in search of more meaningful jobs that provide more options for growth and development. Focusing on your team's continuous development will set you aside from the competition.
In addition to positive incubation characteristics, Australia can boast a steady increase in capital investment from private and public initiatives and the presence of a significant size of early adopter customers. With additional financial support, an infusion of international talent and expertise, and stronger research, Australia can pave its way to becoming a global leader in Green Technology.
Storm4 – Australian Greentech's' partner in growth
Storm4 specializes in connecting the best GreenTech talent with innovative businesses across APAC, Europe, and North America. If you're having trouble finding the right people for your organization, we're here to help. Get in touch to learn more.
Follow our LinkedIn for regular insights on everything GreenTech.