Year on year, the energy sector continues to shock the world through remarkable developments and innovation; and 2021 is looking no different.
From wind to solar, tidal, wave, geothermal and hydroelectric, renewable developments have come a long way. In fact, renewable energy is said to have started in Europe almost 2,000 years ago with waterwheels, which today's hydropower has evolved from. Without the history and experimentation over the years, advancements in renewable energy may look very different.
At present, limiting the detrimental effects of climate change primarily shapes the energy trends we witness today, and the shift towards going green is rapidly creeping into everyone's agendas. To keep you in the loop, we have picked the top 4 trends to watch out for this year.
1. Battery Is Booming In The US
Battery storage has entered a new phase of rapid growth, brought on by falling prices for lithium-ion batteries and rising demand for electricity sources. And 2021 is shaping up to be the year in which battery storage takes a big step towards being an essential part of the grid, rather than operating at the edges.
The largest battery storage system in the world is the Vistra Moss Landing Energy Storage in Moss Landing, California. The system runs for four hours and produces up to 1,200 megawatt-hours before needing to be recharged. A second phase of 100 megawatts is under construction and will likely be complete in August.
"A battery system of this size and scale has never been built before," says Curt Morgan, the company's CEO. "As our country transitions to a clean energy future, batteries will play a pivotal role and the Vistra Moss Landing project will serve as the model for utility-scale battery storage for years to come."
As the industry continues to develop, so too have the entrepreneurs making their mark.
Eos Energy Services, New Jersey, is attracting attention from investors with a zinc-based battery design. The company says its battery has the advantage of using widely available components, as opposed to lithium-ion, whose components may become limited. Eos also emphasises the safety of its batteries in contrast to the flammability of lithium-ion. Additionally, Form Energy in Massachusetts, is developing a sulfur-based battery design, allowing the battery to discharge electricity for days at a time as opposed to short bursts.
2. Electric Vehicle Sales Surge
Despite the pandemic, the global sales of EV's have exceeded all expectations. In 2020, the global electric car stock made history and hit the 10 million mark; China boasts the largest fleet with 4.5 million vehicles, whereas Europe wins gold with the largest annual increase at 3.2 million. And this year is set to break more records.
In the UK, just over 22,000 battery-electric vehicles (BEVs) and more than 17,000 plug-in hybrids (PHEVs) were sold throughout March. This represents a jump of 112.5% in total EV sales compared with March 2020. What's more, for the first time in 2021, an electric car has made it to the top 10 car bestsellers: the Tesla Model 3 proudly took fourth place.
The race for infrastructure to keep up with soaring EV sales is on. At-home charging stations are not enough; public charging stations are essential for people to power up on the move. Therefore, 2021 is set to see more governments and cleantech companies invest in infrastructure and keep up with the mounting EV demand.

3. Focus On Sustainability In The Wind Industry
Offshore wind is set for another colossal year, nearly doubling deployed capacity to 10GW. Turbine size will continue to grow and floating wind will resume opening new regions for offshore development. However, this year will be the first in exploring how to recycle across the wind turbine supply chain.
Danish renewable energy company, Ørsted, began the year leading the DecomBlades project, investigating solutions to recycle the composite material in wind turbine blades. Today 85-95% of a wind turbine can be recycled, but cost-efficient recycling of composite materials remains a challenge.
"The wind power industry is committed to finding a sustainable way to dispose of these decommissioned wind turbine blades concerning the environment, health and safety of workers, energy consumption and cost, and we simply don't yet have solutions that meet all those criteria." John Korsgaard, Chair of the DecomBlades Committee
This is an important goal for the wind power industry to put in place this year to ensure the safety of recycling turbine materials. When the wind power industry expands, this obligation will become much greater.
4. New Off-Grid Renewable Projects Pushed By Covid-19 Vaccine Rollout
The pandemic has hit every facet of the world in one way or another, and the energy sector is no exception. An unforeseen disruptor, the vaccine requires ultra-cold storage, demanding flexible, off-grid energy solutions. Renewables are the ideal answer to this problem, as they're often more flexible than traditional power.
As the world continues to vamp up the vaccine distribution, 2021 will witness the development of renewable energy technologies. If these prove effective, it could help encourage renewable adoption in the future, as well as being helpful in other health cases, too.
Further investment in research and development of off-grid refrigeration will shield families from further health and economic impacts, as well as accelerate global preparedness and response to the COVID-19 pandemic.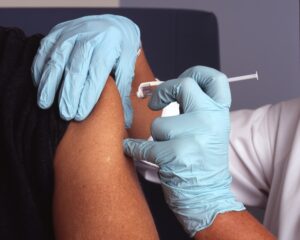 5. AI and Big Data become essential
Artificial intelligence and big data are used way beyond the monitoring, managing and reporting. Another way AI is used also includes power consumption forecasting and predictive maintenance of renewable energy sources. It further allows predictions of grid capacity through IoT, which then drives time-based autonomous trading and pricing. With the further development of these technologies, startups are utilizing data analytics and machine learning for model designing and performance analysis of energy.
One of the companies that utilize data to assist in monitoring and reducing the consumption of energy is OhmConnect. OhmConnect provides a software-based powerplant that assists users in organizing the way they use their electricity usage to lessen digital pollution and awards its users in return. Based in San Francisco, the company recently secured Series D funding to further develop their product and expand their team.
6. Green Hydrogen enters the chat
Hydrogen has the highest energy density of all fuels and produces near-zero greenhouse gas emissions. Developments in sustainable energy and fuel have pushed the shift to green hydrogen – a hydrogen gas made in a sustainable way, in opposition to the more traditional ways of making hydrogen. There are many Start-ups trying to jump on board of the hydrogen hype, but there are some that stand out. For example, Lhyfe produces hydrogen from renewable sources in both off-shore and on-shore facilities. Based in Nantes, France the company just recently received approval from the German city of  Schwäbisch Gmünd (Baden-Württemberg) to start construction of a hydrogen plant on an industrial site of about 10,000 square metres.
"Thanks to our expertise in building local hydrogen ecosystems as well as our model of direct connection between renewable energy sources and our production sites, we can optimally support the development of the region. Following our previous involvement in projects in Germany, this project is part of our strategy to supply Germany with green hydrogen on a national scale by 2025." Luc Graré, Head of International Business at Lhyfe
7. Bioenergy gains traction
Bioenergy relates to a renewable energy source, that is derived from biomass sources. These vary from sewage waste to food waste and they can be utilized for variety of things, from energy to power buildings to creating biofuels. There are currently many Start-ups that are looking into ways to develop new energy sources. One of the companies is a Spanish-based biofuel company Xfuel, who converts biomass waste into fuel that can be used in road, marine and aviation. In March 2022, the company secured a seed round of funding, that will help to further develop the product and expand the
These trends have made great strides in comparison to waterwheels, and symbolise the development and progress the energy sector has made. The growth has seen a rise of CleanTech companies innovating the industry, which requires the very best CleanTech talent. If you are looking for a CleanTech recruiter to help scale your business, or need any advice on talent attraction and retention, please get in touch.