What is indoor farming?
Indoor farming truly has the potential to revolutionize the food industry as we know it today. The simplest way to describe indoor farming is literally farming done inside of a building. It does not require large equipment like tractors, and often is more sustainable and uses way less resources like water in comparison to more traditional ways of farming.
Indoor farming can be divided into three different pillars: vertical farming, hydroponic farming and Controlled Environment Agriculture (CEA). The first one, vertical farming, refers to food grown on top of each other going upwards. The second one, hydroponic farming, happens when you grow plants without the use of soil. Controlled Environment Agriculture means that the farmers can control every aspect of the environment that the plants are grown in, and it encompasses vertical and hydroponic farming as well.

What exactly can be grown indoors?
While grains are still grown outdoors in fields, there are many vegetables and fruits that can be grown indoors very easily. These include: cucumbers, herbs, lettuce, peppers, strawberries, tomatoes, summer squash, eggplant, cantaloupe, microgreens & sprouts, spinach, and mushrooms. Although there is lots of other produce that has been hard to grow indoors so far, the technology is growing at a rapid speed to allow production of virtually anything.
When it comes to advantages of indoor farming, and especially vertical farming, an article by Bowery Farming puts it straight: decreased land usage, urban agriculture, year round yields, decreased transportation, healthier and more abundant crops and lastly: more sustainable practices. United Nations estimates that the world's population will reach 9.8 billion by 2050. To feed this ever-growing amount of people, there is a greater need for practices that are not only more sustainable but will ensure food security. This is where Indoor Farming will help!
To showcase the accelerating change in the Agricultural sector, we decided to spotlight six different Indoor Farming startups revolutionizing the market. We provide a global overview, but our main focus was European AgTech startups, spotlighting the innovation happening in Europe.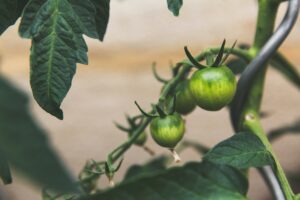 6 Indoor Farming Start-Ups currently revolutionizing Agriculture:
Possibly the most renowned on the list, InFarm is a German Indoor Vertical Farming company.
InFarm aims at growing a global network of urban farms to push more sustainable and local practices. They focus on leafy greens, herbs, and mushrooms, and they're all grown on demand in order to minimize waste. Being a Series D company with a total funding amount of around $604.5 million, you can find their products in over 572 locations, including smaller supermarkets and big store chains. Since its launch in 2013, the company accelerated their commercial operations to more than 50 cities across 11 countries in Europe, North America and Asia. InFarm operates more than 17 growing centres and over 1400 in-store farms for 30 of world's top retailers. The company has several positions open for work.
Leafood is an indoor vertical farming start-up based in Vilnius, Lithuania. The company was founded in 2021, and their main aim is scaling tech-driven, urban farming to provide local consumers with a reliable supply of sustainably grown leafy greens. Leafood wants to localize leafy green supply chains across the Baltic region, to reduce the dependency on imports from Southern Europe and Northern America. In June of 2022, the company raised their €6.45 million seed round, that will be utilized to build its first vertical farm in Vilnius. According to the company, the initial footprint of the indoor vertical farm can yield over 1,000 kilograms of leafy vegetables per day, and will be entirely powered by renewable energy.
As said by Valentinas Civinskas, founder and CEO of Leafood: "We need to innovate and find new ways to farm healthy, sustainable food, year-round, locally and indoors. By developing a network of high-tech, indoor vertical farms, we are trying to solve this problem of food security for the Baltic region."
Eclo is an urban farming startup based in Anderlecht, Belgium. They utilize indoor farming in two different ways: vertical farming for baby herbs and indoor cellar farming in their underground basement for growing exotic mushrooms. Founded in 2014, Eclo raised a €4.7M Series A in July2022. Their produce can be found in stores around Belgium, mainly in Brussels, Gent and Antwerp. The company uses beer and bread waste to grow their mushrooms, and they deliver it by bike within Brussels. to attract people to their mission, Eclo runs public tours of their facilities to put forward what city farming is about, by the end of which each visitor gets 400 grams of Brussels Mushrooms!
Future Crops is an Indoor Vertical CEA Farming startup from Poeldijk, The Netherlands. The company claims to have the first soil-based vertical farm in Europe, with over 8,000 square meters of production area. Future Crops utilizes solar energy to power their production and recycles the water used for production. Their farm is located close to the Port of Rotterdam, where one can find all the links in agri-food supply chain.  The company raised their latest funding in March2022, and is actively hiring.
As said by the co-founder and CEO of Future Crops Gary Grinspan: "We are able to grow tremendous amounts of high-value food on a much smaller stretch of land—approximately 5% of the land required for conventional agriculture. And having no reliance on seasonality amplifies growing cycles tenfold. This means we can grow more faster while concurrently cutting the food mileage. Our produce also has a naturally longer shelf-life which cuts food waste and eliminates ecotoxicity to people and the earth since no pesticides or harmful chemicals are required. The Future Crops system also addresses the downside of the controlled indoor methods of growing crops: high energy consumption due to crops being unable to soak up natural sunlight."
Founded in 2017 and based in Oberwart, Austria, PhytonIQ GmbH specializes in produce production for food, cosmetics, and the pharmaceutics industry. The company uses a combination of methods such as hydroponics, aeroponics and fleece techniques, to ensure the highest quality of their produce. Their researchers and technicians advise, plan and construct indoor farms for individual cultivation.
Based in San Francisco, US, Plenty is an operator of indoor vertical farming specializing in leafy greens. Founded in 2013, Plenty has raised a total of €817M in funding, with their latest Series E in January2022. Walmart, a big US retailer was a part of their latest investment round, and that money is currently utilized to build the world's highest-output farm in Compton, California. The company ships their produce from its farm to local stores every day, where they can be bought in-store or online. In 2021, Plenty was awardedNumber 1 on FoodTech 500.
As said by Nate Storey, co-founder and CSO of Plenty: "The world is in need of an agricultural revolution, and there are many exciting areas where innovators are changing the future of food. At Plenty, we're focused on using our proprietary, scalable vertical farming technology to deliver the freshest, most favourable produce year-round, while preserving our most precious resources."
At Storm4, we partner with startups at the cutting edge of green innovation to help them scale and meet their mission of a sustainable future. If you are at the cusp of hyper-growth and need advice and support in building your teams, get in touch