A Record Year For CleanTech Investment in 2021
In a world at the tipping point of a climate crisis, investment into technologies that are improving environmental sustainability whilst limiting the long-term impacts of climate change has significantly grown. The PwC's State of Climate Tech 2021 report revealed $60bn was invested in the first half of 2021, compared to $28.4bn invested during the entirety of 2020 (a 210% increase.) Of that, the number of active investors doubled from 900 in the first half of 2020 to more than 1,600 in the first half of 2021.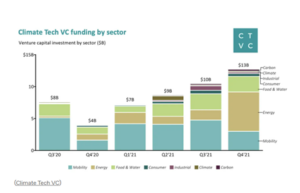 And it doesn't stop there. According to data from Climate Tech VC, the US alone raised a total of $39.2 billion across 605 venture deals in 2021, with mobility, energy, food and water accounting for almost 90% of all funding.
With the average deal size nearly quadrupling since 2020 to US$96m, could 2022 become the leading banner year for CleanTech thus far?
Ryan Panchadsaram, a technical advisor to ClimateTech investor John Doerr, thinks so: "I think the pace will continue and accelerate. That can be seen by the number of climate-focused funds that have been closed—Breakthrough Energy Venture's second fund, the Lowercarbon Capital folks, and then everybody else as well".
Alongside this promising growth is a host of dealmakers making bold climate commitments to save the future of our planet. We have compiled a list of the top venture capital (VC) firms from across Europe and the US who are making waves in the world of CleanTech and investing in cutting-edge technologies accelerating a sustainable tomorrow.
The VC Firms Injecting Capital Into CleanTech
Breakthrough Energy Ventures
Energy Impact Partners
Energize Ventures
Powerhouse Ventures
ETF Partners
Evok Innovations
Breakthrough Energy Ventures
Founded: 2016
Headquartered: EU
Invested: $2.2 billion
Emerging as one of the most prominent climate VC funds in the US, Breakthrough Energy Ventures has quickly made a name for itself, unsurprisingly with Bill Gates, Founder of Microsoft, as the brainchild and a cool $15 billion being invested into CleanTech. Being part of the Breakthrough Energy Group, its goal is to support the world on a path to net-zero by 2050, investing its capital towards technologies helping to achieve that; green hydrogen, aviation fuel, energy storage technology and cleaning polluted air to name a few.
"My basic optimism about climate change comes from my belief in innovation. The conditions have never been more clear for backing energy breakthroughs. It's our power to invent that makes me hopeful", Bill Gates.
Since its inception in 2016, the fund has invested in over 50 companies developing potentially transformative emissions-reducing technologies and raised over $2 billion in committed capital.
Energy Impact Partners
Founded: 2015
Headquartered: New York City
Invested: $2.3 billion
Focusing on sustainable energy start-ups, Energy Impact Partners (EIP) aims to advance the global push toward a zero-carbon economy. Through close collaboration with strategic investors, this clean energy VC firm seeks to bring the best buying power, companies, and vision in the industry to reimagine the energy landscape. Given such a distinct approach to investing, its portfolio includes critical innovations accelerating the energy transition, such as Arcadia and Enchanted Rock.
"Climate tech is now mainstream and the world is starting to realize that climate and ESG are not limited to utilities, energy companies and the automotive industry … it affects everybody," said Hans Kobler, Founder and Managing Partner of EIP.
Since its launch in 2015, the firm has made over 75 investments across six global offices and manages more than $2 billion in assets across early-stage, venture, growth, credit and infrastructure investments.
Energize Ventures
Founded: 2016
Headquartered: Chicago
Invested: $480 million
This early and growth-stage venture fund is on a mission to accelerate the sustainable energy transition by partnering with companies at the intersection of energy and technology. Investing solely in software-based solutions across renewable energy, critical infrastructure, climate resiliency, cybersecurity and mobility, the fund works in partnership with its portfolio companies to realize their full potential. Fund II closed its second fund of $330 million capital commitments in September 2021 and is targeting 15 or more early-stage digital-first start-ups that are raising Series A, B or C rounds in the energy and sustainable industry sectors.
"Since we first launched Energize five years ago, we have seen the energy and industrial sectors undergo a massive digital transformation," said John Tough, managing partner of Energize Ventures, in a statement. "The transition towards a more renewable and sustainable future is outpacing all expectations, and market participants are digitizing operations to address this new, emerging scale."
In the last 5 years, the VC fund has invested a total of $480 million in over 20 companies driving the digitization of energy, power and mobility.
Powerhouse Ventures
Founded: 2018
Headquartered: California
Invested: $70 million
Launched four years ago to fill the critical gap in early-stage funding for start-ups addressing the climate crisis, Powerhouse Ventures, founded and led exclusively by women, is on a mission to support founding teams rapidly transforming our global energy and mobility systems. The launch of their first fund coincided with a turning point for ClimateTech, a revival of ClimateTech venture funding, and an emergence of specialized investors, and its second fund is no different. Ten times the size of its first fund, the $70M second fund will back entrepreneurs building the digital infrastructure for rapid decarbonization.
"The last decade in climate tech saw a handful of start-ups become billion-dollar companies," said Lynn Jurich, Co-Founder. "The next decade will see these companies by the hundreds, and Powerhouse Ventures is positioned to find and invest in these start-ups at the earliest stages while blazing a path as one of the few women-led funds in climate tech. I'm proud to invest in their second fund."
ETF Partners
Founded: 2006
Headquartered: London
Invested: £360 million
Among some of the first CleanTech funds to emerge in the CleanTech 1.0 bubble, unsurprisingly given its experience in the industry, ETF has a promising portfolio. The sustainable innovation VC has invested in seed-stage, growth-stage, early-stage, and later-stage companies in European start-ups delivering sustainability through innovation since inception. Their thesis is simple; identify and back high-impact, high-potential startups with a positive impact, called "Sustainability Through Innovation".
"We started ETF Partners back in 2006 because we believed three things – that the only practical way to address climate change is through technological innovation; that Venture Capital had a role of unrecognized importance; and that, if we demonstrated its effectiveness in this arena, it could catalyze a significant shift in capital deployment towards solving climate and sustainability problems. After 15 years, we now see this happening – but there is much more to be done!", Patrick Sheehan co-founded ETF Partners.
According to Crunchbase, the VC fund has made 53 investments, their most recent partnership with Pieter Pot in December 2021, raising €9M.
Evok Innovations
Founded: 2016
Headquartered: Vancouver
Invested: $400 million
This entrepreneur-led VC fund is a unique investment collaboration that brings together the energy business and the worldwide clean technology community. Its mission is to connect CleanTech entrepreneurs with major customers and subject matter experts in the industry, as well as provide them with opportunities to pilot and demonstrate innovative technologies, in order to accelerate the development and commercialization of environmental and economic solutions for strategic partners.
In March, Evok Innovations announced its second fund, raising $150 million of $300 million to invest in CleanTech North America. The fund has already invested in 16 start-ups working on crucial decarbonization technologies ranging from clean hydrogen to carbon-to-value to long-duration energy storage.
"We are pleased to have our founding investors returning to participate in our second fund, which we see as a testament to our approach and their confidence in our ability to drive large-scale industrial decarbonization while generating market-leading returns," said Marty Reed, Founding Partner of Evok. "Alongside our returning investors, the addition of EDC, RBC and TD will bring new strategic strength to our fund."
These funds are some of the biggest names in the CleanTech movement, signalling a continuation of the ClimateTech bull market and its visionary. Unquestionably, the future of clean technology and green energy lies in the hands of VC funding, alongside the hundreds of other VCs across the globe specializing specifically in cleantech and renewable energy. No doubt, hundreds more funds will crop up in the future as the climate crisis continues to prevail.
If you are a VC fund with a portfolio of trailblazing CleanTech start-ups, get in touch for any advice or support in building out these start-up teams. As leaders in CleanTech recruitment, we understand that without a great team, start-ups with incredible innovations will fail.