What is the situation with clean energy right now?
There has been a huge surge in interests when it comes to clean energy, especially in the recent years. The energy sector is going through a revolution, where fossil fuels are fading away and new energy sources are playing an increasingly important role. So far, more than 70 countries have set targets to cut their greenhouse gas emissions to zero, including Europe, the US and China. Those three, plus a few more account for more than 75% of global missions. To reach the net-zero ambitions, there is still a lot of work that has to be done. So, are we reaching a Clean Energy tipping point? Let's explore the topic.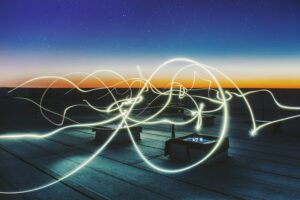 According to iShares, there are currently three main things driving the transition to clean energy:
Clean energy is becoming cheaper every year. According to The Eco Experts, in 2021 solar energy was crowned the cheapest source of energy in history in 2021, followed by onshore and offshore wind. Between 2010 and 2021, the price of solar reduced by astonishing 88%, decreasing 13% in 2021 alone. European gas prices are now about 10 times higher than their average level over the past decade. New sources of clean energy are increasingly coming into play, such as energy from waste and biomass.
Demand for clean energy is growing. As consumers become more conscious about their behavior, more people are interested in getting energy from clean sources, instead of relying on fossil fuels. With the increase in policies not only in Europe but around the globe, the demand will increase even more in the following years.
Clean energy seems less dependent on geopolitical turmoil. Optimized systems can generate reliable energy in nearly any location (depending on the source), no matter the geopolitical climate. Fossil fuel resources are regionally concentrated and controlled by just a handful of countries. Most countries must power their economies with imported oil, gas, and coal, which can fast turn challenging if geopolitical conditions suffer.
Data speaks in favor
Research conducted by Our World in Data concludes that while electricity from clean energy became cheaper as we increased capacity, electricity generated from nuclear and fossil fuels did not. Additionally, according to another research, the cleanest sources of energy are also the safest.
All these points contribute to a wider adoption of clean energy. According to data from Bloomberg, 87 countries have passed the 5% tipping point into widespread adoption of clean energy. China is currently making the fastest transition to renewables such as wind and solar energy.
In recent years, we've seen a transformation happening at the policy level. Paris agreement asked to reduce emissions in order to curb the climate crisis and limit global temperature rises to 2°C above pre-industrial levels. In the UK, the zero carbon emissions by 2050 goal has been set, and China is aiming for 35% of energy to be produced from clean energy by 2030. Recently as well, the Inflation Reduction Act has been passed in the US, which "makes the single largest investment in climate and energy in American history".
Having more buy-in from the governments has been definitely beneficial for the energy transition. There has been also a big change in consumer behavior when it comes to clean energy and sustainability as a whole. Many prospects are now influenced by the environmental issues when it comes to buying and consuming virtually anything – from household appliances to cars. The surge in popularity of electric vehicles in the past 5 years has been massive, which is another aspect related to the clean energy transition.
Basically speaking, we need to produce the energy from something, if we want to charge our zero emission vehicles somehow. Hence the big interest in clean, renewable and alternative sources of energy. This also rolls over onto the topic of energy infrastructure and the grid. Reaching the ambitious net-zero goals requires both cleaning up the power grid while expanding what gets plugged into it. Because clean energy is safer and less susceptive to turmoil, the infrastructure, when changed, will be more resilient. If you'd add to that the necessity of battery storage, we're potentially looking at a win-win situation for everybody.
So, the question remains: are we reaching a Clean Energy tipping point? Looking at the before-mentioned points, it appears we are slowly going into that direction. The adoption of electric vehicles, transition of energy infrastructure, cheaper costs of deploying technology and the switch in consumer behavior are all pushing us towards the tipping point for clean energy.
The big question that remains is: when exactly?
As leaders in the Clean Energy Recruitment market, we know that only the start-ups with a successful team behind them will bring these Clean Energy trends to fruition to mark their contribution towards a sustainable future. For any hiring support or talent advice, do not hesitate to get in touch!