This article appears in our Sustainable Edit newsletter, our monthly recap of the latest news, startups and stories in GreenTech — subscribe here.
The Electric Opportunity For Canada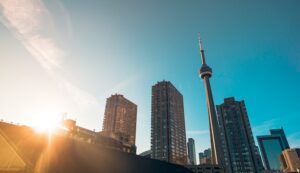 Whilst Canada has been producing cars for more than a century, a new opportunity has emerged to use its unique advantages to build a mobility ecosystem that rivals the biggest Electric Vehicle players currently; the US and China. From well-established manufacturers and suppliers, experienced labour, and government assistance, to proximity to the US and access to crucial minerals needed to construct the batteries that power the industry, Canada has access to many of the essential elements required to become an EV leader.
More and more studies indicate that electrifying the transportation industry will be crucial to reducing emissions on a national and international level. Transport is the industry with the largest dependence on fossil fuels, according to the International Energy Agency (IEA), and despite advancements in the clean vehicle industry, worldwide carbon dioxide emissions from transport increased by 8% in 2021.
Supporting a transition to EVs is one of the top goals outlined in Canada's 2030 Emissions Reduction Plan, which aims to create a regulated sales mandate that will ensure 20% of all new passenger vehicle sales will be net zero by 2026 and 100% by 2035. The region has reaffirmed its commitments at COP27 by joining the Accelerating to Zero (A2Z) Coalition, a new project that brings together governments, automakers and NGOs to work towards all new car and van sales being zero-emission by 2040 globally.
But what makes Canada a good EV prospect? Take a read below.
Four Reasons Why Canada Is The Latest EV Player
A Strong Supply Chain
Due to a continuous pandemic and numerous international conflicts, the sector and its suppliers have experienced supply chain interruptions over the past two years, which have led to price increases and ongoing shortages.
The ecosystem could be improved and the supply chain shielded from future disruption if electric cars and EV component manufacturing are done in Canada. Ontario is already the second-largest auto producer in North America, after Michigan, and the second-largest information technology hub, after California and plans to develop at least 400,000 electric and hybrid vehicles by 2030 to retain and expand its auto industry.
A Localized Market
Both the raw materials and the skilled labour needed for EV production are found in Canada. This offers Canada a great opportunity to switch its current auto industry to EVs while utilising its access to the resources needed to generate the batteries that power them. Already, in Cambridge, Ontario, the first hybrid SUV produced in Canada has been commercialised.
Localized production has its benefits. It will streamline the supply chain and open up new trading opportunities for Canada. Plans to produce electric vehicles or EV parts, including batteries, in Canada have already been announced by several automakers. Support from the federal and provincial governments has been essential in obtaining these investments, increasing Canada's allure for future investments.
All of these investments will generate a sizable number of new clean energy employment in Canada, from manufacturing to mining to recycling. According to a report by Clean Energy Canada (CEC), employment in the sector is expected to increase by almost 50% to 640,000 by 2030, with an estimated 184,000 Canadians working in EV technology alone. In addition, Canada's appeal continues to make it a desirable destination for talented immigrants, with population growth in key manufacturing regions expected to increase by a factor of 2.5 compared to the US.
An EV Battery Ecosystem
Due to the weight and complexity of EV batteries, vendors who are physically closer to the ultimate manufacturing location of a car will benefit from competitive contracts.
With significant private sector investment, support from the federal, provincial, and territory governments, and the potential to become a centre for ethically sourced materials, Canada is swiftly developing a robust supply chain for battery manufacture.
Plans were recently revealed to construct a plant in Quebec to manufacture cathode active materials (processed nickel, lithium, and other materials) for EV batteries. The same was true of plans to develop a 400,000-square-foot factory in Quebec to manufacture battery cells. The facility will use clean energy and establish a self-sufficient, circular North American EV supply chain. These advances are igniting what may prove to be a turning moment for the Canadian EV industry, assisting in the establishment of a local supply chain and luring further suppliers into the ecosystem.
An Abundance Of Raw Materials
Another asset playing in Canada's favour is its abundance of nickel, lithium, cobalt, graphite, copper and manganese to localise the manufacturing of EV components. These metals are essential for creating batteries and future vehicles. But in the upcoming years, Canada could see a significant increase in the sourcing and production of lithium-ion battery materials. Suppliers to automobile OEMs will have to adhere to environmental, social, and governance (ESG) criteria, especially those that make batteries. This implies that they will need to accurately identify the place of origin for minerals like cobalt.
An inventory of essential minerals in Canada is being developed by a task force to support the development of a battery value chain and, consequently, new jobs, particularly in remote and northern regions.
Takeaway
From "mineral to charge," Canada has the opportunity to reinvent itself as a global leader in EV production, creating new jobs and boosting the country's economy. Large battery cell manufacturers have announced significant investments in the region, whilst it also provides cheaper operating costs, alluring tax benefits, and simple access to American markets. It's a win-win for EV automakers!
If you are looking to grow your Canadian EV start-up, or expand your EV start-up into Canada, we are the trusted EV recruitment partner to spearhead such operations with the best talent. Hiring across Engineering, Data, Sales, Marketing, Product, Finance and Operations, we are happy to have an introductory call at your convenience. Just get in touch here!