What Is A Circular Economy?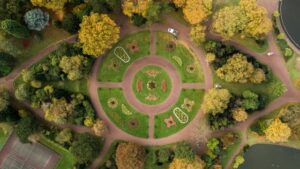 Defined by the Ellen Macarthur Foundation, a Circular Economy builds and rebuilds overall system health. The concept recognises the importance of the economy needing to function well on all scales, including those of large and small firms, organisations, and individuals operating locally and globally.
The model of production and consumption, which involves sharing, leasing, reusing, repairing, refurbishing and recycling existing materials and products as long as possible, is based on three principles, driven by design:
Eliminate waste and pollution
Circulate products and materials (at their highest value)
Regenerate natural systems
This model rectifies the traditional linear economic model of the past century, which is based on a take-make-consume-throw-away pattern. It presumes there is an endless supply of resources, deriving value from producing and selling as many goods as possible, which of course, is no longer viable.
Looking at the numbers, the need to switch to an entirely different economic model, like the circular economy, is paramount. Globally, 2.01 billion tonnes of solid waste is produced every year. This number is expected to grow to 3.40 billion tonnes by 2050, which is more than double the expected population growth over the same period.
As it stands, just 8.6% of the world is 'circular'. However, action is being taken to improve this figure. From governments and businesses to individuals, a circular economy is popping up across more and more agendas, and this article, as part of our Green Room event, A Circular Economy, plans to deep dive into how a circular economy is the key to unlocking a future that moves away from eliminating finite resources and instead empowers the planet's natural reserves.
A Little More Detail About A Circular Economy
A Circular Economy's (CE) foundations are built on the premise of regenerative and restorative design, restoring the health of the Earth's overall system while generating benefits for businesses, organisations and individuals, on a global and local scale. Three fundamental ideas underlie a CE, all of which contribute to reversing the negative effects of human activity on the environment.
Eliminate waste and pollution: This is where both the problem and the solution start. Although it seems like waste is inevitable in certain situations, with many products having no further use after being utilised, waste is the result of design choices.
CE challenges this concept of waste being a design flaw. Any design in a CE must meet strict specifications that the materials can return to the economy after being used. It might be shared, reused, repaired, renovated, remanufactured, and, as a last resort, recycled to circulate.
Keep products and materials in use: Circulating items and materials at their highest value is the second CE principle. This means maintaining materials as either a product or as components or raw materials when they can no longer be used. Nothing is wasted in this manner, and materials and goods maintain their inherent value.
The biological cycle and the technical cycle are the two fundamental cycles that keep goods and resources in use. The technical cycle is the best method for preserving a product's value. For instance, a cell phone is worth more as a phone than as a collection of parts and materials. The biological cycle allows for the recirculation of biodegradable elements that cannot be recycled, such as some food leftovers. Organic waste can be composted or anaerobically digested to release essential nutrients that can be utilised to replenish the soil and support the growth of more food and renewable resources like cotton and timber.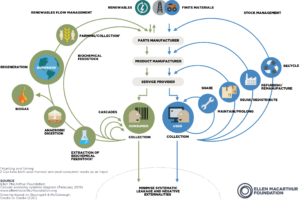 Regenerate natural systems: The third and final principle of a CE is encouraging natural processes, leaving more space for nature to flourish. This shifts the focus from continuously degrading nature to building natural capital. For example, farming practices are used to encourage nature to rebuild soils and increase biodiversity and return biological materials to the earth. Moving to a regenerative model allows the world to begin to resemble natural systems.
The Benefits Of A Circular Economy
Shifting from a linear to a circular model brings about benefits that create huge potential for value creation within the economical, business, environmental and societal spheres.
Environmental Benefits of A Circular Economy
Has the potential to ease greenhouse gas emissions and the use of raw materials, in turn boosting agricultural output and decreasing the negative externalities brought by the linear model.
The guiding principles of a CE on the agriculture system ensure that vital nutrients are returned to the soil, cushioning the exploitation of land and natural ecosystems. Since soil degradation costs an estimated US$40 billion annually worldwide, and has hidden costs such as the increase of fertilizer use, loss of biodiversity and loss of unique landscapes – a CE could prove to be beneficial for both the soils and the economy.
Negative externalities, such as land use, soil, water, and air pollution, as well as the release of harmful substances, are better managed when one adheres to the CE's principles.
Economic Benefits of A Circular Economy
According to McKinsey, the ability to raise GDP can be attributed to the growth in revenues from new circular activities combined with production that is more functional and enables things to be readily disassembled and reused.
Up to 70% in material savings could be achieved with the CE model. A CE model concentrates on lengthening the cycles of the materials while eschewing landfills and recycling.
Business Benefits of a Circular Economy
Moving toward a CE model has the potential to open up new revenue streams. These opportunities could come from entering new markets, reducing costs through waste and energy reductions, and ensuring supply continuity.
A CE reduces a company's reliance on the erratic nature of raw material prices. A CE entails using more labour-intensive inputs, such as recycled (or even reusable or easily transformable) components, hence consuming fewer raw materials.
A CE model can increase demand for new products and services as well as new employment opportunities in fields like product marketing and sales platforms, parts and component remanufacturing, and product refurbishment that provide specialised knowledge.
Circular Economy Startups
Apeel | California

With the goal of reducing food waste, Apeel uses cutting-edge technology to do away with single-use shrink wrap packaging on fresh produce. It's edible, plant-based coating, which is applied to fresh items, mimics and improves the defence mechanisms of fruits and vegetables while eliminating food waste, plastic waste, and energy. One avocado, for instance, can be covered with Apeel to conserve 23 litres of water and store energy for nine smartphone charges.

Loop | New Jersey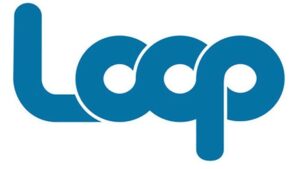 This reuse platform called Loop, which has operations in France, the UK, and the US, provides high-end products in reusable packaging, including Heinz Ketchup and Tide detergent. When a container is empty, it is either picked up from the owner's house or left at partner retailers. Then, the containers are expertly cleaned, filled, and utilised again.
thredUP | California

thredUP has developed a smarter and simpler way to buy and sell used clothing through their regulated marketplace. Free pre-owned items from any brand can be sent in by thredUP merchants, who handle them via quality control, itemization, pricing analysis, storage, and listing before reselling them. This promotes a circular economy within the fashion industry by keeping clothing in use for as long as feasible.
Takeaway
Here at Storm4, we are advocates for a CE and are highly aware of how a CE system builds sustainability, generates business opportunities, and effectively helps reverse the consequences of climate change.
We are also conscious that to effectively drive a CE, you need the right team to spearhead operations and drive your company's circularity mission.
If you need the talent to drive your circularity mission, get in touch. As experts in GreenTech recruitment, we have an extensive pool of specialist, senior GreenTech professionals, and are dedicated to helping connect talent to innovative businesses creating a more sustainable tomorrow.