The race to EV adoption is at full charge
The global electric vehicles market has seen an astonishing growth in the past few years. From about 120 000 EVs being sold worldwide in 2012, the same amount was sold during just one week in 2021. As you can imagine, the electric vehicles sector has no intention to stop growing, as more governmental policies are being put in place across many geographical locations, something that will fuel the expansion even further.
In Q2 of 2022, the global electric vehicles sales grew 61% compared to 2021, reaching 2.18 million units. Battery electric vehicles (BEVs) accounted for almost 72% of the total sales. Plug-in hybrid electric vehicles (PHEVs) accounted for the remaining 28%. China remains as the market leader in sales, with almost 92% increase compared to the year prior, reaching 1.24 million units, compared to just 0.64 million units sold in Q2 of 2021. This is thanks to governmental policies put in place by the Chinese government, that strongly incentivizes automakers and consumers to develop more models and buy more electric cars. Europe currently sits in second place when it comes to EV sales, but the US is slowly catching up with the electric revolution.
Top 10 EV models accounted for more than 30% of global EV sales in Q2 of 2022. For the first time, Tesla has been dethroned, as a Chinese-automaker BYD Auto became the top selling EV brand (across a few different models). Globally, in Q2, the five top-selling brands are: BYD Auto, Tesla, Wuling, BMW and Volkswagen.
In the next few years, we can expect more and more players enter the EV market. With the heavy software-focus when it comes to new models, it is predicted that more startup's will take the sector by a storm, as opposed to traditional OEMs (original equipment manufacturers). Already the likes of companies such as NIO, Xpeng, Rivian, Lucid Motors and Lightyear are making big headlines in the automotive industry. Companies such as Rimac, Pinifarina and more established automakers such as Lotus are entering the hypercar territory with their inventions, which will help to further accelerate the movement in the market and help electric vehicles obtain the "mainstream" badge.
The transition to electric mobility is gaining momentum, all with the goal of bringing forward a more green, sustainable tomorrow. The EV market is probably the fastest accelerating sector of GreenTech, and it's definitely an exciting one to keep an eye on.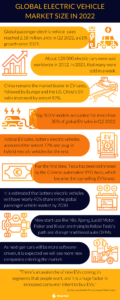 At Storm4, we proud ourselves on partnering with electric vehicles innovators who are on a mission to accelerate the transition to a greener tomorrow through electric mobility. We support in their growth plans by connecting them with top talent within the GreenTech space. If this sounds like something you need support with, don't hesitate to get in touch! We have a network of professionals actively seeking roles across Engineering, DevOps, Firmware, Embedded, Data, Analytics, Product Management, Sales and Marketing.