5 Ways To Improve Diversity & Inclusion In Your Startup
Promoting and improving diversity and inclusion in the workplace is crucial to bring about diverse viewpoints, higher revenue and greater performance.
Despite the benefits, research has identified a diversity gap within the CleanTech industry. The US' solar sector in 2019 was made up of 73% white, 17% Hispanic or Latino, 9% Asian and 8% Black professionals, whilst the ratio of women to men working in the clean energy industry in 2020 was 30% female to 70% male. In the UK, just 27% of engineering graduates are Black, Asian and people from minority ethnic backgrounds, but this group makes up only 7.8% of professional engineers.
Making diversity a priority is just as important as creating a culture that is inclusive of people from all backgrounds. Inclusivity is key to maintaining workplace diversity. Here are 5 ways startups can foster a diverse workforce and inclusive culture.
Remove Bias From Hiring Process
Conscious and unconscious bias, racism, ageism and sexism unfairly play a role in who gets hired. To combat this, write inclusive job descriptions using neutral language, as well as adopting a blind systematic process for reviewing applications and resumes.
Ensure the interview committee reflects the demographic of the workplace and standardise the interview process by using a scorecard or work sample test. This allows the employer to focus on the factors that have a direct impact on performance.
Alternatively, working with a recruitment partner eases this pressure as they can present you with a diverse shortlist of candidates from the first stage of the hiring process.
Make Inclusion A Collective Responsibility
Commitment from the top means the hiring process, company culture and employee experience are prioritised to successfully achieve a diverse and inclusive workplace.
First, acknowledge any lack of diversity. Turn to your diversity statistics within your roles, teams, and hierarchy as a means to acknowledge that change is needed. Then, make your commitment to change visible by developing a social impact statement and an internal Diversity and Inclusion Guide for staff, sharing your company's values and vision for promoting social equality.
Improving diversity and inclusion in the workplace isn't just a percentage shift of employees, but a transformation of culture to embrace the racial and cultural make-up of the workforce, building a sense of connectedness to the company and its people.
Educate
Research shows that overall, diversity and inclusion are not built into tech culture. Companies must devote time and resources to educate employees to change behaviour and manage potential challenges related to inclusive practices.
Pinpoint trending diversity and inclusion concerns within your workplace and tailor training to address these specific issues in an engaging and informative way. For example, implement a series of events, celebrations and programmes for continued learning and awareness. The more informed and aware your staff becomes, the easier it is to support and celebrate differences and help shift diversity training from a lecture into a culture.
"Creating an anti-bias lens is like the gym. It's a lifetime commitment of training and dedication which builds your strength, endurance, and changes your body and mind." Christina Blacken, Founder of The New Quo.
Embrace flexible working
The global pandemic has proved employees across the world can be just as productive at home as in the office. Business leaders must acknowledge that maintaining a form of flexible working can propel greater diversity and inclusion initiatives.
These include supporting parents returning to work, reducing the gender pay gap, helping people with fluctuating health conditions stay in work and supporting carers to balance work and caring responsibilities.
It is also important to recognize and celebrate all religious and cultural holidays. Whilst Christmas Day is one of the most notable holidays celebrated around the world, not everyone marks it as a religious holiday. Instead, offer flexible holidays, providing a set number of 'holiday time off' hours for employees to use at their discretion throughout the year. Host monthly themed events on-site for various cultures and demographics: Black History Month, Pride Month etc.

Offer a mentorship programme
32% of minorities are more likely than the average respondent to declare mentoring as "extremely important" to their careers. Research also identifies mentoring programmes lead to a 72% higher retention rate amongst mentees.
Although most people mentor others who are like them, employees from underrepresented minority groups do not always have access to mentors at a seniority level. Ensuring they have contact with mentoring and professional networks outside of the organization who mirror themselves is incredibly important to meet the goals and objectives of the programme.
When you create time for valuable mentorship, you create leaders for the future.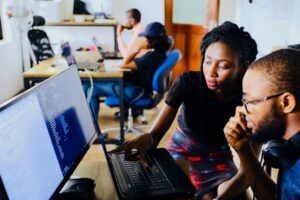 Actively investing in improving diversity and inclusion will create a more connected and engaged workforce, benefiting your startup on every level.
Creating a diverse workforce begins with the hiring process. Our rigid diversity practices and policies ensure you have access to a diverse network of individuals that meet your candidate requirements. If your business needs support in scaling a more dynamic team, get in touch.