4 Tips To Get Your GreenTech Startup Funded
Pitching to a board of investors can be a daunting task, whether you're raising for your first angel round or seeking added capital via a Series A. In many cases, your pitch deck is your calling card.
Getting early investment in your startup can mean the difference between surviving and failing. And as 90% of all startups fail, most often for monetary reasons, buy-in from investors at the earliest stage is imperative for success.
VCs are starting to pay attention to sustainability-focused startups; €7bn of VC funding has gone into 'cleantech' startups in Europe in the first half of 2021. But how can you clearly communicate a pitch that sells your startups environmental solution and monetary value? We have gathered some tips on how to put together a pitch deck that will catch an investor's eye.
A Successful Pitch Deck Formula
Tell Your Story
The best pitch decks tell a cohesive story. And great stories grab their audiences from the get-go. It should convey how your GreenTech solution will make a positive environmental impact and why the financial investment is worth it.
Open with something relatable about why you're passionate about the prospect and why others should be too. Take the time to condense the purpose and impact of what you're proposing into a killer opening line. Simplicity is key here, showing a clarity of vision and ability to sell.
As you move on with your presentation, keep your story meaningful. Ideally, your deck should be between 10 to 25 slides, with each slide furthering the story about the solution you are selling.
Think about your journey; what hurdles have you overcome? What successes have you had? Where are you headed with the added capital? Not only will this pique an investor's interest, but it will also create a logical sequence to the pitch itself.

Show And Tell
Nothing increases investor confidence more than being able to see what your product does. It is one thing to tell investors about its ability to combat the rising environmental concern, but another to demo the product, bringing them into the world you imagined.
"There is almost nothing more powerful than a great product demonstration. When done correctly, a demo allows the customer to see and feel how things will be better if they buy (and worse if they don't)." Geoffrey James
A product demo focuses on how it addresses a global environmental problem, proving it is more than just an idea. Your goal is to reinforce the benefits of the solution you propose, budgeting 5-8 minutes for the demonstration.
It is one of the best sales tools to use, combating concerns and offering tangible evidence to support your story. Tailoring your demo will ensure an impressive portrayal of your product, remembering to always consider your audience and purpose of the pitch.
Be Specific
One of the biggest mistakes entrepreneurs make is being vague when it's time to talk money. When your startup has no track record or revenue stream, how much money should you ask for?
There is a fine line between underselling and overselling yourself. Underselling yourself signals to investors your idea isn't worth their time, whilst overselling yourself could portray your idea as a bluff. What's important is to get the right investors, not the one putting the most money at the best price.
"You as the entrepreneur have to either found a great business or be okay taking home less money." Stever Robbins
It's important to be confident and specific with your request. Investors want to know what their investment will look like and where you anticipate to be after spending their money, which will ultimately build trust. Being specific will show that you've carefully thought through your business model and financial needs.
Prepare for a Q&A
No matter how flawless your pitch is, investors will ask questions. Anticipating those questions and providing clear answers will increase your credibility and give you the chance to address any concerns before the pitch concludes.
To prepare answers to any questions investors may ask, put yourself in their shoes. Are there specific concerns they may have about the GreenTech market, eg competition or market size? Are they likely to have any issues with your business model? Will they have questions about your product?
Also consider your pitch presentation. Did you gloss over anything substantial? Is there anything you said that may need more clarification? Write these down and consider how best to fill in the gaps.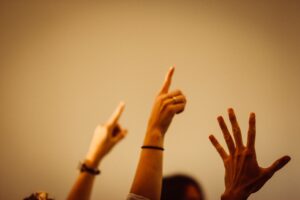 Knowing how to prepare and present a stellar pitch to investors is what sets successful companies apart. With a combination of useful content and visual demonstrations, your pitch deck will be hard to ignore.
Behind every great pitch deck is a great team executing your vision. If you are preparing to pitch to a board of investors and need support in founding a talented team, get in touch. Our Consultants partner with some of the leading tech talent in the market, who have the skill and expertise to ensure your startup is a success.