Iona Stacy-Marks, Head of Storm4 Asia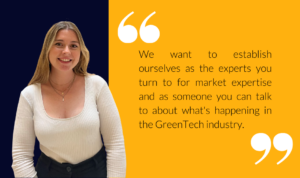 Tell Us A Little Bit About Yourself
Iona began her journey at Levin in Storm2 and was the second cohort of the business since launching in 2019. The decision to pursue a career in recruitment was initially due to the lucrative commission structures, fast promotion structure, and responsible for your own desk. Having worked in the FinTech market, her new goal was to be able to help these companies scale and impact the financial world. Fast forward two years, Iona took the opportunity to move brand to Storm4 and launch its first office in the APAC region in Singapore.
As a whole, it has been a crazy couple of years of learning how to grow professionally alongside a scaling business, having earned four promotions and relocating halfway across the world!
What Are You Most Proud of Professionally?
A significant accomplishment for Iona is the upward trajectory that her confidence has developed since day one of Levin compared to two years back. Iona lacked confidence at the start of her career, but Levin has demonstrated both personally and professionally what she is capable of, proving to herself that she is able to achieve much more than she imagined she could.
Additionally, she made it known that she wished to go to Asia, which offers a challenge from a cultural standpoint and is distinct from doing business elsewhere in the world. Today, she has established an academy of GreenTech consultants that has already begun to see success.
What Inspired You To Launch Storm4?
Iona's goal to spend some time living in Asia was set at the start of her professional career. In terms of how much she has already learnt about communication methods and how to lead a team from a completely new culture, it has already paid off. Moving to a completely different continent and having the chance to explore a different area of the world is an experience that is rewarding in and of itself.
George Trewhella paired Iona up with Kay Bottomley, the founder of Storm4, as her mentor and they were able to build a great relationship early on. She knew that she could discuss anything with Kay and she would have her support. This mentorship gave Iona the chance to launch Storm4 in Singapore, which is in line with her long-term objectives. Building relationships within a company and using your network effectively can open up a world of opportunities for you. Iona will always be thankful to Kay for recognizing potential in her that she wasn't even sure existed.
What Is The Vision of Storm4?
Iona's vision for Storm4 in the APAC market is to be the go-to-market in GreenTech recruitment and to be an extension for scaling GreenTech's across the region. By extension, Iona is referring to being an extension of their internal talent and HR teams. Storm4 APAC want to establish themselves as experts you turn to for market expertise and insights, market materials, and a knowledge hub with up to date GreenTech news and stories. We want to maintain the image of Storm4 consultants as the point of contact who are known for delivering services efficiently to a high standard with the urgency that holds across the world.
Which Areas Of GreenTech Excite You the Most?
Over the last couple of months, Iona has become more invested in the Japanese and Korean markets. An area of GreenTech which is hot in Korea and Japan is autonomous vehicles, EV, and future mobility. "Korea has a high percentage of Series B autonomous vehicles companies that are doing amazing things with traffic and robotics. They are the future of the world, especially in Asia which is already implementing robotics in daily life. I'm super excited to see where that can go in the next couple of years and want to arrange a business trip."
What Makes Storm4 Different From Other GreenTech Recruiters?
"What Storm4 do differently is fill niche roles. At the moment, we have partnered with some amazing companies in Korea and Japan who are seeking exceedingly niche roles, such as embedded software engineers that have experience in autonomous vehicles. It's safe to say other agencies are likely not to have these types of high-calibre talent in their networks. Alongside that, we have a huge emphasis on delivery, the time of delivery, and the standard that we work on. We are very particular about the CV's we send out and make sure that everything is fully pre-screened."
In 2023, Iona will host a live webinar on the topic of women in GreenTech with a panel of female CEOs. Keep an eye out for it!