Japanese AgTechs Leading The Industry In 2022
Japan is on the cusp of a CleanTech revolution, with landmark new feed-in tariffs ushering in a clean and green post-Fukushima future. As the world's third largest economy, and with a government committed to renewable energy, the market opportunities for clean technology in Japan today are real and lucrative.
As the name implies, 'AgTech' or 'AgriTech' is the intersection of agriculture and technology. AgriTech, sometimes referred to also as AgroTech, refers to the application of technology of all kinds to make farming easier and more efficient. AgriTech encompasses a vast range of different technologies, ranging from advances in hydroponics and drone technology to the use of AI and data analytics for monitoring crops.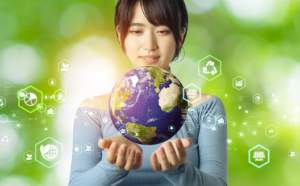 In Japan, those who work exclusively in agriculture are currently on average 68 years old. Additionally, there is a decline in the number of individuals working in agriculture. Japan's working population in agriculture decreased by 34% from over 2 million in 2010 to about 1.3 million in 2020. AgTech might be used to automate more agricultural procedures and lessen their burden on the person to assist balance Japan's aging and declining agricultural workforce.
Due to the high cost of agricultural inputs like fertilizers and agricultural gear, Japan has high agricultural production expenses when compared to other countries. According to figures from 2021, the cost of producing 60 kg of rice, Japan's primary agricultural commodity, averages 9180 JPY (£58.67 GBP) in total input costs. Expenditures related to fertilizer make up 13% of this total, while costs related to agricultural equipment and tools make up another 32%. Therefore, developments in AgTech that lower fertilizer wastage or lower machinery-related expenses would be very helpful to Japanese farmers.
Here Are Our Top 5 Company Picks: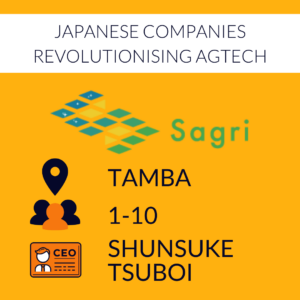 Sagri is a provider of smart agriculture data services and a platform that supports the development of smallholder farmers in the Asia Pacific region. The company's platform analyzes agricultural land condition in the area using satellite data analysis and machine learning, working with local governments and financial institutions to help them identify abandoned agricultural land on a digital map and reduce the burden of an investigation.
To build a blockchain-powered database, Sagri collects information from farmers on agricultural products and varieties as well as soil conditions (corrosion content) using satellite data. Combining these, the company advises farmers on how to enhance soil conditions from biological, chemical, and physical aspects in addition to providing them with precise measurement to enable farmers to produce more. They have also created a grading system for assessing farms based on information about the soil's characteristics and the degree of corrosion in it.
The company has been successful in decreasing the cost of measuring soil nitrogen using satellite data compared to traditional procedures, which were expensive. With such a focus on rice and sugar cane, the system can estimate harvests and advise farmers on how much fertilizer to use. While the Japanese state uses the technology to assess the state of fallow lands to see whether they may begin agriculture, the firm encourages banking institutions to lend money to local farmers in India by sending them all these insights.
Their deep tech capabilities combine the power of satellite-based big data, AI/ML, and grid-based polygon maps. Their service unlocks opportunities to increase yields, support fertilizer design, and offer remote crop and forest monitoring.
Their technology offers user and customer-related insights. It can aide microfinance operators by estimating the financial potential of agricultural land, enable farmers to check the chemical composition of the soil and adjust their methods accordingly, and assist governments in making data-based decisions about which projects will be most beneficial and in line with farmers' interests.
The platform processes weather, market, soil, farmland, and vegetation data, and interprets it into insights related to credit creation for farmers, agricultural advisory for intelligent farming, soil health checks, and carbon-offset analytics. Their data services can easily integrate with existing systems through an API. Their platform is protected from competitors with a portfolio of global IP, covering 12 different countries. With the technology fully developed and multiple applications and use cases designed for different customer bases, Sagri is focused on rapid expansion across Japan, Thailand,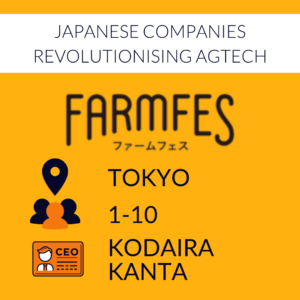 FarmFes is a web service that connects agricultural producers and consumers and mediates contracts for agricultural production plots. Agricultural producers can obtain a contract fee per area in a lump sum before harvesting, which stabilizes their income and improves cash flow.
Consumers can be satisfied not only with safe and secure products, but also with agricultural experiences, pseudo-ownership of farmland, and relationships with farmers. Furthermore, it is also possible to appeal to consumer needs that change from "things" to "things".
Farmfes aims to create a locker-style food vending machine service where consumers can pick up groceries at their convenience. In the initial phase of this Lockal project, the company set up an unstaffed vegetable stand at the shopfront of the Nakameguro Lounge cafe in Nakameguro, Tokyo. The stand is stocked with organic vegetables from Hokuto-city, Yamanashi prefecture. This fall, the company plans to put the locker-style vending machines at five more restaurants in Tokyo.
The aim of FarmFes is to bridge the gap between rural and urban areas with access to healthy food options. FarmFes delivers fresh and flavourful produce from the countryside to those who live in the cities.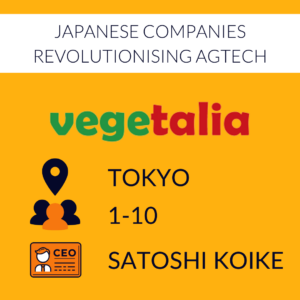 Vegetalia is a start-up AgTech company providing various solutions for agriculture using the latest plant science and technologies.
In addition to "FieldServer," which enables continuous monitoring of field conditions and crop growth conditions, "PaddyWatch" to sensor paddy fields, and "agri-note," a cloud-based farm management system that can record field management and farm work based on map information, they offer advanced agricultural IoT solutions.
The company also opened the "Vegetalia Plant Clinic®", Japan's first private service making use of the knowledge of plant doctors who are plant medical science specialists and launched activities supporting producers while utilizing sensor data.
As a pioneer of agricultural ICT use in Japan, Vegetalia is a leader in fostering innovation in the agricultural sector. It participates in the Innovative Technology Development and Emergency Deployment Project (within the Management Enhancement Project) promoted by the Ministry of Agriculture, Forestry, and Fisheries as well as the Cross-Ministerial Strategic Innovation Promotion Program (Technologies for Creating Next-Generation Agriculture, Forestry, and Fisheries).
The company partnered with Shinshu Takayama Winery and introduced their technology to instal remote observation devices called "field servers" throughout the village. Previously, farmers only had data from the Japan Meteorological Agency. However, these readings are taken 1.5 meters above the ground and not in the actual vineyard environment, leaving gaps which the winemakers had to fill in using their own intuition and experience.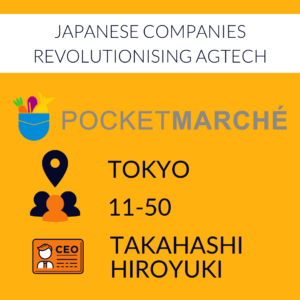 Pocket Marche is an online marketplace connecting food producers directly with consumers. Consumers can buy directly from farmers or fisherman, getting fresher products, access to nonstandard varieties and in general higher quality produce.
Producers can increase their margin, hear directly from their consumers, and get recognition for their hard labor, and be able to sell nonstandard produce (such as cucumbers who are not perfectly straight, which are otherwise not accepted by supermarkets and would need to be thrown away).
Their app works to promote local businesses, celebrate seasonality, and educate consumers, reducing the waste of produce that does not meet mainstream aesthetic standards. They showcase growing conditions and profile producers, giving farmers and fisherman the opportunity to generate revenue by engaging directly with consumers for a more personable transaction.
In Japan, farming and fishing is on the verge of collapse. Only 1.4% of the population are farmers, with this number set to decline rapidly due to the lack of younger generations involved in the industry. If this trend remains the same, Japan will lose part of its agriculture, along with certain delicacies. At the same time, almost 30% of fruit and vegetables in the world are wasted because of how they look. The National Geographic recently revealed this waste would be enough to feed two billion people.
The goal of Pocket Marche is to open the door for future generations of farmers to pursue their passions and get the respect and compensation they are due. To restore Japan's agriculture, they are causing a sea shift in mentality, and combining farmers and consumers to build enduring partnerships will be the key to our success.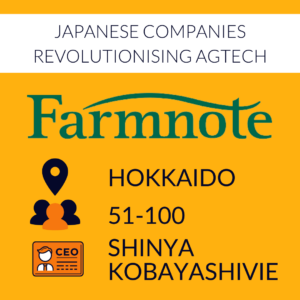 Providing IoT solutions to the dairy and livestock industries, Farmnote Holdings is a Japanese AgTech business. Farmnote, a company established in 2013 and situated on the Hokkaido Island in northern Japan, has created a herd management system by integrating wearable sensor devices with a cloud-based system. This system is intended to streamline and maximize productivity in livestock and dairy production.
Ranchers and farmers may achieve maximum herd management with Farmnote's wearable-based IoT platform technology, which uses artificial intelligence to collect and analyze real-time data on cow activities. In order to wirelessly communicate behavioral data to the owner's or manager's smartphone, wearable collar sensors on animals called "Farmnote Color" transfer data through radio waves to "gateway" stations located at various points on the ranch or farm.
The fact that 93% of livestock farmers in Japan are small-scale and keep less than 100 heads of cattle, Kobayashi has been providing these farmers with the Farmnote cloud platform for free, allowing them to manage their livestock individually via smartphone. While farmers feeding more than 100 heads of cattle have to subscribe to the premium plan, the freemium business model has made the company successful in attracting farmers. Almost 3% of the entire population of dairy and livestock farmers in Japan are using Farmnote.
Farmnote states that it plans to use the fresh capital to fund the acceleration of its R&D initiatives with particular focus on furthering AI technological applications in agricultural production.
Partner With Storm4
Storm4 focuses on the tech industry aiming to create a more sustainable tomorrow and can help you with hires in Japan. From Future Mobility, Circular economy, and Clean Energy through to Smart (Grid, Metering, Water, Home, Energy analytics), AgTech and Food, Energy Storage, and Decarbonisation, Storm4 will focus on connecting the best GreenTech talent to the most innovative Sustainable Technology businesses worldwide. We are a specialist recruitment scale-up launched in February 2021 and now the company has expanded to service the APAC region.
Storm4 is here to accelerate the journey towards a sustainable future.