The upcoming recession will make hiring more challenging for start-ups, but it doesn't have to be impossible. By being strategic and thoughtful in your hiring practices, you can attract and retain top talent that will help your business thrive. This article is designed to help start-ups find talent during the recession by providing actionable advice and tips that will help you build a talented team.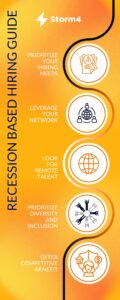 Prioritize Your Hiring Needs
During a recession, it is essential to prioritize your hiring needs. Identify the roles that are essential to your business's success and focus on hiring for those positions first. It may be tempting to hire for multiple roles simultaneously, but this can be costly and inefficient. By focusing on the most critical roles, you can ensure that you are investing your resources wisely.
Leverage Your Network
Your network is a valuable resource when it comes to finding talent. Reach out to your professional contacts and let them know that you are hiring. Share job postings on social media and professional networks to reach a broader audience. Additionally, consider offering referral bonuses to employees who refer successful candidates. This can be a cost-effective way to find talent and incentivize your team to help you grow.
Look for Remote Talent
Remote work has become increasingly popular in recent years, and the pandemic has accelerated this trend. Remote work allows you to tap into a global talent pool, which can be especially valuable during a recession. By hiring remote employees, you can reduce overhead costs and find the best talent from around the world.
Prioritize Diversity and Inclusion
Diversity and inclusion are critical to the success of any business, and they are especially important during a recession. A diverse team brings different perspectives and experiences, which can lead to better decision-making and problem-solving. Additionally, prioritizing diversity and inclusion can help you build a strong employer brand and attract top talent.
Offer Competitive Benefits
In a recession, employee benefits can be a powerful tool for attracting and retaining top talent. Consider offering competitive salaries, health insurance, retirement plans, and other benefits that demonstrate your commitment to your employees' well-being. Additionally, consider offering flexible schedules and remote work options, which can help you stand out as an employer of choice.
Hiring during a recession is challenging, but it doesn't have to be impossible. By prioritizing your hiring needs, leveraging your network, looking for remote talent, considering freelancers and contractors, prioritizing diversity and inclusion, and offering competitive benefits, you can build a talented team that will help your business succeed. As a start-up, it is essential to invest in your people and create a culture of innovation and growth. With the right hiring practices, you can find the talent you need to achieve your goals and thrive during the recession.
How Storm4 Can Help You
Leaders in global GreenTech recruitment, we are on a mission to help scale businesses at the cutting edge of clean technology to secure a more green tomorrow. Working alongside GreenTech's in EV, Future Mobility, Energy Storage, Clean Energy, AgTech, Circular Economy, ESG, and more, we have been pivotal in building the key senior hires in these companies to supercharge their operations and make a significant impact on the climate.
If you are looking for a recruitment partner in North America, Europe or APAC, don't hesitate to get in touch. We are always on the lookout to support more GreenTech's driving a sustainable future with the very best talent on the market.