Why Companies Choose To Set Up Business In Singapore
Home to more than 178 GreenTechs, Singapore offers a gateway to Asian economic due to favorable factors like, supportive government regulations, strong financial backing and investor ecosystem, world-class infrastructure. Due to Singapore's open immigration policies designed to attract emerging businesses and experience professionals, it has evolved into the ideal business and commercial hub of Southeast Asia. Setting up a company in Singapore is relatively simple but it can get confusing with the different rules and regulations.
We have come up with a simple infographic below to help simplify and summarize the different ways a foreign company can set up their next office in Singapore:

What Should Companies Take Note When Recruiting in Singapore
Recruitment is a critical step in any company. When making the hire in any country, it comes with certain legal protocols for both employer and employees. In Singapore, the well-known regulation of recruitment is the Singapore Employment Act.
Before recruiting in any countries, you can use the questions below as a guidelines to help your recruitment process:
What is the binding labor laws (within the operating country) that your company and employees are required to abide?
How many employees are you allowed to employ? (Locals and foreigners)
What are the costs involved when hiring an employee?
Without statutory requirements, what are the common practices of the operating country?
What are the recruitment guidelines of the operating country?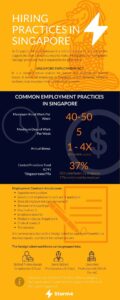 Singapore has a smaller population as compared to many other countries due to its size and low birth rate. This results in the strong need for foreign talents to supplement the aging population and shortage of talents in sectors that require niche skills. Hence, it is important when hiring in Singapore to ensure that your hiring practices are open and fair to offer all jobseekers a fair chance. When hiring experienced professional, the rules and regulations relating to Employment Pass (EP) would be most relevant to GreenTech companies due to the niche skills and line of work.
To simplify your recruitment efforts, the infographics below summarizes the common hiring practices in Singapore which will help you to better understand the hiring landscape of Singapore.
It is important to note that all employers in Singapore are expected to adhere to the Tripartite Guidelines on Fair Employment Practices. The practices cover job advertising and any employment actions to prevent any discriminatory employment practices. Singapore has a strict view on any employers with potential of discriminations, which can include race, age, religion, or nationality bias.
How Storm4 Can Kickstart Your Move to Singapore
As companies scale and make their mark on global GreenTech hubs, you will need the right GreenTech talent to help your company to succeed. At Storm4, we have a team of specialized recruitment consultants adept to the everchanging GreenTech landscape to help you connect with our strong pool of GreenTech talents.
With the right talents in your company, you will be able to drive rapid growth in your start-up journey. Get in touch with us to let us support you on your global journey.