The State Of The Smart Home Industry
Smart homes are no longer retained for the sate-of-the-art modern homes. Since the pandemic sprung on the world, there has been a global uptick in Smart Home device sales as a solution to reducing energy consumption, improving security and automating household tasks. As such, the smart homes market is expected to reach USD 313.95 billion by 2027.
Smart homes, or home automation, are terms used for a wide range of monitoring solutions, controlling and automating functions in a home. Unlike simple home automation solutions, such as motor-operated garage doors, smart home systems necessitate a web portal or smartphone app to interact with the automated system. Such devices can be automatically controlled via Wi-Fi, enabling the user to regulate functions, such as security access to the house, temperature, lighting, and home theatre.
The use of smart technologies and real-time management systems are multi-functional for our planet, homeowners and tenants. According to the New York State Energy Research and Development Authority (NYSERDA), smart home devices can decrease costs by an average of 15% and improve the bottom line by creating an ecosystem that reduces energy waste.
However, as the smart home market continues to grow, there remain some questions over which devices and systems will dominate and why. Speaking with our Smart Technology Consultants, we depict the Smart Home Industry Trends of 2022 that will influence the final trajectory of the market.
Global Smart Home Market
North America holds the biggest share of the market, with nearly 30 million US households projected to add smart home technology in the near future. This includes connected cameras and video doorbells, connected light bulbs, smart locks and smart speakers.
And it's not just homeowners integrating smart home devices. According to the US Department of Energy, the buildings sector accounted for 76% of the electricity used, resulting in a considerable amount of associated greenhouse gas (GHG) emissions released into the atmosphere. In order to comply with government regulations and environmental challenges, it is crucial that energy consumption is reduced in buildings too.
See below for the global smart homes market, illustrated by the growth rate by region from 2022 – 2027.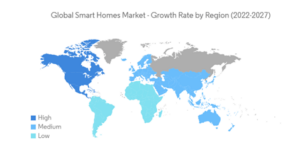 5 Smart Home Technology Trends

Home Integration
The reigning champion from 2021 remains undefeated as the integration of smart home technology continues to boom into 2022. Using the same products and services throughout the home, such as Google or Amazon Alexa, are making smart home devices better connected, more streamlined and easier to use.
From an integration viewpoint, smart home start-ups are developing ways in which these devices can communicate with one another, saving homeowners valuable time and money. One example is a Philips Hue lighting system, which controls the lights in your entire home and can follow specific routines to turn the lights on and off according to your schedule and needs.
Taking the smart home system to new heights, connectedness is key. For example, a smart refrigerator can detect when you are low on milk or eggs, and add it to the shopping list stored on an Amazon Alexa device. Ease of use continues to improve too, lowering the barrier to entry. All you need is a smartphone, Wi-Fi connection and an outlet to set up an array of devices.
Its importance, however, has extended well beyond home buyers. A streamlined connection can also help landlords or rentals attract business, as many renters have come to expect these devices plotted in the homes they rent. Often, willing to pay more to live in a connected home!
Artificial Intelligence
Classed as staples of the home technology industry thanks to voice assistants like Amazon Alexa and Siri, AI devices are making setting a timer, updating your grocery list or playing music as easy as a simple voice command. Today, the developments of AI have greatly surpassed smart speakers, from ovens that turn on and off with the sound of your voice to mirrors that host workout videos and critique your form.
In the coming years, we predict AI and IoT devices to become much more commonplace in every room of the home – in the refrigerator, the oven, the microwave and the bedroom for accurate sleep tracking. Homebuyers and sellers should expect to see a considerable uptick in smart devices, particularly in kitchens and smart bathrooms, with which comes with a great price tag.
Home Health Monitoring
Spurred on by the global pandemic, plenty of smart home technology start-ups have parachuted towards health benefits. Health and well-being have taken priority over the past couple of years, and our homes have become an extension of this effort. Whilst smart thermostats had taken centre stage for a while, recent developments have led to new features targeting the health-conscious homeowner, such as humidity sensors to assist with air quality and contactless appliances.
In alliance with the recent global health crisis, smart air purifiers and air conditioners have risen in demand, elevating and maintaining air quality. Some smart doorbells have integrated a temperature-taking functionality to screen guests before they enter the home.
Smart health devices can also be seen in a variety of rooms in the home. Smart beds give a hand to a night of better, deeper sleep, going as far as identifying sleep disorders users may be unaware of. Smart kitchen accessories advise users on healthy recipes and take most of the guesswork out of cooking.
A more explicit example can be seen in the advancement of smart toilets. Going far beyond a standard toilet, sensors are used to analyse waste and skin to provide insights into the user's health and alert them about any issues that have been identified. Currently, this is more of a concept rather than a commercial product, but ideas like this are expected to see further implementation in the next 12 months.
High-tech Security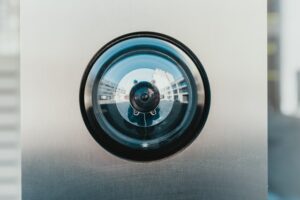 As smart home devices can come with a hefty price tag, it is critical to protect homes from the risk of break-ins. Developments in smart home security have surpassed the standard house alarm, detecting the sound of breaking glass, beeping appliances and even monitoring for fires. Security cameras have become so interconnected that they allow you to check on your home from anywhere and access the controls from afar.
Even if break-ins aren't something you are concerned about, smart home security allows you to check on your pets while you're away, track what time your children get home from school or when a parcel has been delivered. Smart video doorbells, such as Ring, ultimately function as a type of virtual butler thanks to Alexa Smart Responses.
Robots!
It was only going to be a matter of time! The biggest names in the smart home world are devoting time and research to household robots. This has led to some controversial and even unsettling opinions.
Whilst being an unpopular option to some, robot developments have been commercialised over the years. In 2020, Sunflower Labs launched The Bee, an autonomous home security drone for your backyard, whilst Samsung's JetBot AI+'s built-in home security features make it the closest device on the market to a home robot!
Although we may be miles away from a robot being able to dust the blinds, the advancement in technology this year will no doubt bring us one step closer.
And it doesn't stop there. It is easy to forget that smart home technology is still in its infancy due to the array of developments toward building a smarter, more connected community. Whilst the next few decades will bring about further trail-blazing innovations (especially with the likes of the metaverse dominating), the year to come will be one of new advancements and efficiency, particularly as the world catches up after the global pandemic.
With more innovations, come more great smart home entrepreneurs. And with smart home entrepreneurs, comes the need to build smart home teams. If that's the case for you, get in touch today! Our specialist Consultants work only within the GreenTech space, with Smart Tech being one of our biggest divisions, and no doubt we can connect you with the very best talent that aligns with your needs.