Flipping a light switch or unlocking the front door is fast becoming a thing of the past as smart home technology enables homeowners to automate many actions. Advances in the Internet of Things (IoT) and mobile apps are being integrated into our utilities, appliances, safety features and kitchen gadgets.
Spearheaded by tech giants such as Amazon and Google and innovative startups, the smart home market is expected to reach $314 billion by 2026. And homeowners are buying into the phenomenon. 71% of Intel customers expect to see at least one smart-home device in every household by 2025, and 68% expect smart homes in the next decade to be as common as smartphones.
Innovative startups at the forefront of these technologies are developing new and pioneering ways to make our home life as easy, efficient and connected as possible. We have put together five smart startups that are transforming how we live.
The Smart Home Startups Making Their Mark
Tado°
The Munich-based smart home startup is the European leader in intelligent home climate management. Providing solutions for consumers and businesses, their app allows consumers to control their heating and air conditioning anytime, anywhere.
"As a leader in intelligent home climate management, tado° is in an excellent position to bring our energy-efficient solutions to this rapidly-transforming market", says CEO, Toon Bouten.
Co-Founder, Christian Deilmann says: "The EU's proposed Green New Deal and the wave of country-specific regulations designed to reduce carbon emissions have led to a surge in demand for smart home devices from both tenants and landlords".

August Home
Awarded 'Best Smart Lock' by Good Housekeeping, August's WiFi Smart Lock is a great example of smart home technology that simplifies lives. The seamless lock installation and the user-friendly app can control your door lock from anywhere, sharing access and programming the lock to open and close automatically as you approach your home and enter inside.
The app pairs the WiFi Smart Lock with Amazon Alexa, Google Assistant, and Apple HomeKit to enable voice control and the August Doorbell Cam Pro lets you communicate with visitors and let them inside.
"Our vision to bring thoughtfully designed smart home access products and services that rethink home security innovation to market is now fully realized with the August smallest door lock and the first to integrate WiFi", says CCO and Co-Founder, Yves Behar.

Deako
Contracted to be installed into one out of every eight new single-family homes built in the U.S, Deako's plug-n-play light switches have been named the #1 Smart Lighting Control System by TecHome Builder.
The Bluetooth-enabled switches and dimmers offer a wide variety of personalized options, serving the needs of a broad spectrum of homebuyers looking to add dimmers, smart switches or creating a whole-home smart lighting experience.
"With commitments to be installed in 1 out of 8 new single-family homes, Deako is experiencing unprecedented growth. These agreements are driving double-digit monthly compound revenue growth while adding two new markets weekly," said Deako founder and CEO Derek Richardson.
Awair
With a mission to ensure people breathe safely anywhere, Awair provides air monitoring solutions with an intuitive, easy-to-use design and flexible power, data, and installation options for residential and commercial applications.
Awair's software platform offers a sharing platform that helps owners, visitors, and occupants understand, control, and improve their indoor air quality for health and safety.
Speaking about Awair's vision, Co-Founder Ronald Ro says: "There is a massive opportunity in how we design, build, monitor, and control our environments. Current technology for built environments is not optimized for occupants' health and productivity. Awair exists to make sure we are productive, safe, and healthy."
Sense
A wearable for your home, Sense tracks your electrical devices the same way we track calories and steps. Being a key player in the home solution space, the Massachusetts startup strives to tackle the problem of home energy consumption. The energy monitoring system provides you with insights about energy usage, allowing users to make informed decisions about what devices you're powering and when you're powering them.
In May 2021, Sense partnered with LG Solar intending to empower homeowners to make smart energy decisions. The collaboration allows consumers to access how much power their solar array is generating, how much energy their home is consuming and what the value of that power is in real-time.
"By providing insights on both PV and energy consumption with an intuitive interface, PV providers have the potential to save consumers complete investment, especially when dealing with complex utility bill structures", says Gabe Abbott, VP of Strategic Partnerships at Sense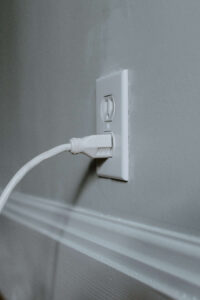 One trait that ties many of these companies together is their focus on saving energy and energy efficiency. Consumers demand smart home devices for convenience, but also to reduce their impact on the environment.
Smart devices are transforming the future of our homes, and require a data team to ease the complexity of the systems. If you are looking to scale your data team for your smart home technology startup, get in touch with our consultants to tap into our expansive network of talent.