This article appears in our Sustainable Edit newsletter, our monthly recap of the latest news, startups and stories in GreenTech — subscribe here.
The GreenTech Opportunity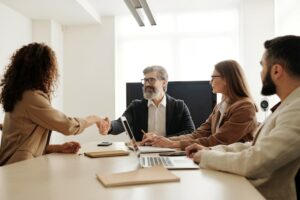 Amidst the crypto crash and backdrop of the market downturn, venture capital funds in GreenTech broke a record for the largest amount of capital raised in any prior full year at $151b! With the market booming and the climate emergency still as imminent as ever, the only way to supercharge the market and mitigate the climate crisis is by hiring the best and brightest minds.
In reality, many individuals are leaving their incredibly desired, high-paying tech professions to work at mission-driven businesses that are leading the way in influencing climate solutions. Sandy Anuras, who recently joined home solar provider Sunrun as its Chief Technology Officer, spoke about her desire to move markets. "What bigger problem is there to solve for our generation than climate change? Not only is climate change an existential-level threat to humanity, but it is also especially dangerous for the poorest communities around the world. Spending my time in that space is just so important".
However, finding, interviewing and hiring the right talent can become too time-consuming for new founders and fast-scaling startups. Many  turn to specialist GreenTech recruitment agencies, who can impart significant ROI on their talent pool. Seemingly perceived as very 'cloak and dagger', specialist agencies can be the solution to fill your talent gaps. This itself isn't a very popular opinion due to the many myths and misconceptions that surround recruiters and recruitment agencies. Here's what we have to say about that…
Myth 1: "Recruiters don't understand the market"
This opinion is typically expressed by those who have dealt with recruiters who are not specialized in the industry. Generalist recruiters may struggle to communicate the value of your company and position to attract the right candidates. Knowing the intricacies of current technologies and market drivers is essential to unlocking influential conversations with prospective "star candidates".
Working solely with GreenTech's, Storm4 are uniquely set up to mirror our clients concerning the verticals we align on to dispute this myth; Engineering, DevOps, Data, Analytics, Sales, Marketing, Product Management, Finance and Operations. With specialists in each vertical, this allows us to access talent quickly without compromising on data. It also means that we become a go-to partner for all hiring needs as the startup scales across all remits.
Myth 2: "LinkedIn is just as effective as a recruiter"
Quality recruiting is all about having a strong network. A recruiter specialising in GreenTech will frequently network with industry leaders and develop relationships with these "star candidates" to learn precisely what they are looking for in their next career prospect. Typically, these professionals are passive candidates who are not active on the surface of the market but are open to conversations if the right offer comes along. A recruitment partner can be seen as a career ally to top talent, understanding their career goals and presenting opportunities that exactly match their skills.
The alternative to hiring a recruiter, of course, is scouring LinkedIn. Unfortunately, due to privacy concerns, the majority of people who are not actively seeking new employment will typically not answer a direct query from a corporate representative. On the other hand, applicants who reply to your postings are likely to be doing so with a lot of other postings. One reason for this could be assessing the market, but more often than not, they will be trying to generate a compelling offer to get a raise or promotion at their current employer. By contacting passive applicants, you run the risk of getting caught up in a bidding war, which external recruiters can help prevent.
Myth 3: "Recruiters are too expensive"
This sentiment typically comes from people who have worked with recruiters on a contingency basis. This type of compensation model tends to encourage quick wins and forces a 'speed to market' as opposed to 'speed to quality', as often this model allows startups to work with multiple agencies.
Great recruitment partners will want to forge a relationship with you and work exclusively on a partnership model. This represents the best value for money for the client, whilst guaranteeing delivery of the recruiter. Whilst this often requires upfront commitment, this model will instantly move to the top of recruiter's priority list to ensure no stone is left unturned in finding the best talent.
Depending on your choice of recruiter, the fee structure will vary. Whilst the upfront cost can seem daunting to many startups, whatever terms are agreed upon will be a fraction of the revenue lost if the search for a crucial sales position takes three months longer than standard. With a priority for startups in their growth phase to scale quickly, a great recruiter will bring you speed and efficiency in a search.
Myth 4: "Our product will attract candidates"
The bottom line is that the finest talent in any industry expects to partner with highly qualified and specialized recruiters. Just as an athlete or actor would not consider new opportunities without agent representation, star candidates typically will not make a big move without a recruiter overseeing the deal. Although this occurs occasionally, it is rare.
How Storm4 can help you
Leaders in global GreenTech recruitment, we are on a mission to help scale businesses at the cutting edge of clean technology to curb the climate emergency pressing today's conversations. Working alongside GreenTech's in EV, Future Mobility, Energy Storage, Clean Energy, AgTech, Circular Economy, ESG and more, we have been pivotal in building the key senior hires in these companies to supercharge their operations and make a significant impact on the climate.
If you are looking for a recruitment partner in North America, Europe or APAC, don't hesitate to get in touch. We are always on the lookout to expand our remit and support more GreenTech's driving a sustainable future with the very best talent on the market.