Agriculture technology or AgTech is the use of technology in agriculture, horticulture, and aquaculture with the aim of improving yield, efficiency and profitability for farm managers and growers. The APAC region is having a lot of funding being pumped into multiple areas within the GreenTech industry recently. 
These are our top picks of some pioneering AgTech companies in APAC.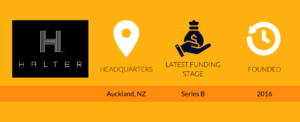 Halter is an AgTech start-up designing and building advanced technology to remotely guide farm animals. The team is working rapidly to push the boundaries of what  is possible for modern day technology to achieve and has the support of a range of world-class investors including Blackbird, DCVC, Founders Fund, Promus Ventures, K1W1, Ubiquity Ventures, Ice Angels and Rocketlab CEO, Peter Beck.
With their solar-powered GPS-enabled smart collar, farmers are able to guide cows around a farm using sound and vibrations. This allows the farmer to automate herd movements and thereby create a virtual fence The technology can also tell a farmer when a cow is hurt and requires medical attention. The collar device takes thousands of readings from a cow and can identify issues more quickly than what would be observed in the milk shed.
Their collars can be used to create a larger number of mobs and create smaller breaks within a block, optimising pasture and fine-tuning grazing management to a level that was not possible before whilst simultaneously improving the animal's health. This new technology is giving farmers the ability to draft their cows without needing to be anywhere nearby. Their vision is to enable a future of fence-less farming which is more efficient for farmers, less stressful for animals, and more environmentally sustainable.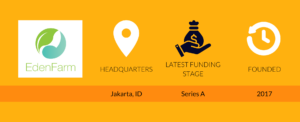 EdenFarm is a fast-growing B2B company revolutionising Indonesia's food ecosystem and supplies high quality food ingredients to various customer segments including hotels, restaurants & cafes (HORECA), traditional markets, and eCommerce. Focusing on the B2B if industry with a technology-supported food ecosystem, Eden Farm strives to create a food market with stable prices and aims to improve the quality life of local producers.
Eden Farm has proven that they are coachable and have a strong vision for the future of agriculture in Indonesia.
Utilizing technology to empower local farmers and create positive impact in rural areas, Eden Farm continues to strive for supply chain simplification, assisting farmers in increasing production consistency through accurate demand guarantees to ensure supply availability, and at the same time increasing farmers' income through economic improvement. Supported by investors from eight countries, Eden Farm currently operates in 14 cities and three districts in Java, to meet food demands from various B2B customer segments.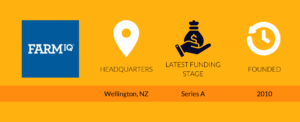 FarmIQ Systems are a farm management software designed to drive sustainable, productive, and profitable outcomes by bringing all your farm information into one place. They supply farmers, create continuous farm improvement through -planning, collaborating, recording, reporting, complying, and reviewing simpler through a mobile app.
They were established as part of a government-backed Primary Growth Partnership (PGP) initiative in 2010, with the goal of improving the value chain efficiency by allowing information to flow freely between farmers, processors, and retailers. In October 2017, the PGP wrapped up and FarmIQ became a fully incorporated New Zealand business, supported by a group of passionate shareholders.
Over 4,000 farms are already using FarmIQ, and that number continues to grow as the demand for farm management software increases, which is primarily driven by compliance and regulation.
They provide a platform which brings all a farm's information together, enabling the farmer to make more productive, profitable, and sustainable decisions. Their apps are used throughout the pastoral value chain and are a significant driver of primary sector returns and value creation.
The positive impact of these decisions extends far beyond the farm gate and can be seen right throughout the industry. For this reason, FarmIQ is a preferred ERP platform for enterprise agribusiness.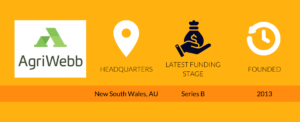 While agriculture is often said to be one of the least digitised industries in the world, Australians have always been innovators in the farming sector. From an idea conceived over a farm kitchen table to a $100 million business in seven years, Australian livestock management platform AgriWebb has been anything but an overnight success, says co-founder and Executive Chairman Justin Webb.
It's this big-picture thinking mindset that has turned AgriWebb into a global platform used by farmers from the US to Brazil to Sub-Saharan Africa, with more than 18 million animals tracked across 150 million acres.
Replacing old-school notebooks and whiteboards for organising the management of the farm is just the start of it. The software provides farmers with powerful tools like digital farm maps and real-time insights on animals and grazing, from where the best grass is to which animals are putting on weight, that can be managed straight from their mobile phones. ArgiWebb's solutions enable farmers to uncover powerful insights from on-farm data, transforming everyday information into a clear path to success. With more actionable insights in their hands, farmers can use AgriWebb to increase profitability, efficiency, and overall farming enterprise.
The CEO Justin Webb said "If you can make an agricultural business and agricultural technology work here in Australia, you are recognised as being a world leader internationally because we have some of the most diverse ecology, farming methodology production."
Using farm data these days is used to build trust through the value chain as they are noticeable in environmental, social and governance (ESG) factors to both investors and consumers.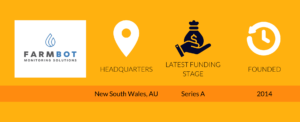 Farmbot was established in Sydney in 2014 and is one of the leading Australian AgTech companies. Their SaaS Platform gathers data points via their unique IoT device that puts Farmers "in the know" on their water assets with near real time reporting on water levels, trends, and alerts anywhere in the world.
The company combined knowledge of farming, the IT industry and financial markets in the agriculture sector are core to bringing Farmbot's vision to life.
Their solutions provide farmers with a smart, cost-effective and easy-to-use solution to better manage their most valuable resource – water. The farming experience across our executive team allows them to intimately understand the everyday hardships that farmers are faced with.
That's why Farmbot's solutions are designed and built to not only bring innovation and progress into Agri-Businesses but to also provide farmers with the knowledge they need to better plan their day, save on costs, and have the peace of mind they rarely get to have. The company monitors and reports on farm water ecosystems delivering near real-time reporting on water trends, consumption, and alerts.
Some of their main standout features include a Farmbot consultant where farmers can speak directly to a farmbot consultant and there is one in each state. No questions will ever be unanswered. They also have easy installations where you can install Farmbot without making changes to your water tank. It's so simple and doesn't take more than 15 minutes to install.
Regarding informing stocking rates, data plotting water level changes in each tank is being collected and charted to help understand water usage. Information can be accessed by logging into the online Farmbot platform. The charts help the Cochranes make management decisions about stocking rates under seasonal conditions, and whether increased or decreased stocking capacity is required.
Storm4 focuses on the tech industry aiming to create a more sustainable tomorrow. From Future Mobility, Circular economy, and Clean Energy through to Smart (Grid, Metering, Water, Home, Energy analytics), AgTech and Food, Energy Storage, and Decarbonisation, Storm4 will focus on connecting the best GreenTech talent to the most innovative Sustainable Technology businesses worldwide. We are a specialist recruitment scale-up launched in February 2021 and now the company has expanded to service the APAC region.
Storm4 is here to accelerate the journey towards a sustainable future.