What is ESG and why the need for it?
A few years ago probably only a few knew about the existence of ESG and what it entails. Now it's a hot topic thanks to the recent criticism from Tesla's CEO Elon Musk. But what's the fuss about, and why is it important?
ESG stands for Environmental, Social, and Governance and it refers to an approach where the extent to which a corporation works on behalf of social goals that go beyond the role of a corporation to maximize profits is evaluated. ESG is split into three pillars, as the name suggests: environmental pillar, social pillar. These can be further split into:
Environmental Pillar:
Climate change
Natural capital
Pollution & waste
Environmental opportunities
Social Pillar:
Human capital
Product liability
Stakeholder opposition
Social opportunities
Governance Pillar:
Corporate governance
Corporate behavior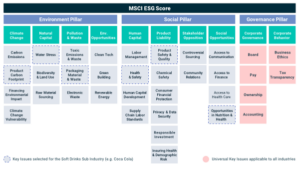 Although for many years the social and governance pillar were a prominent topic of conversation, with the need for more sustainable practices, the environmental pillar is slowly catching its spotlight too. Many quote the pandemic as one of the biggest factors contributing to the rise of ESG, as many people in the past two years in one way or another had to rethink their entire lives in isolation. Social, governmental, and environmental concerns have risen in those unprecedented times, and there is a greater need for companies that can help with ESG goals.
When it comes to ESG ratings, there are several agencies that evaluate these goals, and each and every company has their own scoring system. These agencies rate companies based on various sustainability criteria and compare the scores between them. Even though Europe requires big companies to regularly publish reports regarding environmental and societal impact, there are not any set rules regarding that within the EU. As of now, there are approximately 25 countries in the world that require ESG reporting, and recent research showcases benefits and good impact of ESG disclosures.
In addition, ESG reporting provides an insight into the future of companies and shows, for example, prospects of success or long-term risks, which can help investors evaluate their decisions to invest in certain companies.
As mentioned before, the need for companies helping with the ESG goals is bigger than ever, so based on that we prepared a list of Ten ESG Startups that in our opinion deserve the spotlight.
Top Ten ESG Startups in 2022:
planA
Headquarters: Berlin, Germany
Last funding type: Series A
Founders: Lubomila Jordanova, Nathan Bonnisseau
Based in Berlin, planA is a startup specializing in monitoring CO2 emissions and improving the ESG index through their SaaS platform. Founded in 2017, their main goal is to accelerate the decarbonization of our society and prevent the devastating outcomes of worsening climate change. PlanA also implemented many reforestation, biodiversity, river protection, and local waste management fundraising projects. They offer their software to companies who aim at reducing and managing their CO2 emissions (planA  Carbon Manager) and recently incorporated the ESG management module into their product. Plus, they recently secured $10M of Series A funding and opened a new office location in London!

Planetly
Headquarters: Berlin, Germany
Last funding round: Acquisition
Founders: Benedikt Franke, Anna Alex
Founded in 2019, Planetly is another startup offering a Saas platform to help with carbon management for businesses in order to drive the sustainability goals and implement ESG management.  Based in Berlin, the company currently provides their services to over 250 customers, including BMW, HelloFresh, and The Economist Group, and their in-house team consists of 25 different nationalities. In December 2021, Planetly was acquired by OneTrust, to incorporate ESG as a part of the product suite of OneTrust.
Apiday
Headquarters: Paris, France
Last funding round: Seed
Founders: Eduard Audi, Charles Moury, Erol Hoke
Based in Paris, Apiday main product is a SaaS platform for corporate ESG data management. The platform helps to easily collect all ESG data in one place, collaborate with third-party ESG consultants and automate ESG reporting and certification processes. Founded in 2021, the company has been backed by Speedinvest and REVENT, and they secured their

Novata
Headquarters: New York, US
Last funding round: Series A
Founders: Christina M. Alfonso-Ercan, Josh Green, Alexander Friedman
Founded in 2021, Novata provides an ESG platform build for private markets. The company was created as a mix of non-profit and for-profit organizations to drive a more sustainable and inclusive approach for companies and help them assess their ESG performance. Novata secured a Series A funding in November 2021, and recently announced their partnership with Climate Neutral.
Sust global
Headquarters: San Francisco, US
Last funding round: Seed
Founders: Josh Gilbert, Gopal Erinjippurath
Founded in 2019, Sust Global offers an AI-powered geospatial platform meant to quantify climate-related risk and capture sustainable value. It helps not only with the issue of reporting on sustainability-related topics but also with the creation of climate-resilient products. They secured their £2.3M seed funding round in 2021, and the company intends to use this funding for further growth of the company, to expand their commercial and technical teams and venture out to new markets, such as real estate and banking.

Project canary
Headquarters: Denver, US
Last funding round: Series B
Founders: Chris Romer, William Foiles, Anna Scott, Melody Li
Based in Colorado, US, Project Canary provides a SaaS climate data analytics platform focusing on accurate corporate ESG data for emission-intensive industries. The platform allows the customers to assess methane, water, and other climate-related energy supply chain risk factors that can help with tracking environmental performance. Founded in 2018, the company secured their $111M Series B funding in February 2022, and followed it by putting an executive team in place.
Conservice ESG (formerly Goby)
Headquarters: Chicago, US
Last funding: Venture
Founders: Chris Happ, Ryan Nelson
Founded in 2008, Conservice ESG offers a platform for ESG data management, with the aim to easily access, monitor and communicate ESG initiatives. The company addresses ESG for a few different markets, both private and commercial. Formerly Goby, the company was acquired by Conservice in 2021 and renamed Conservice ESG, and was included in the company's product of utility management with the goal of helping companies to drive their sustainable practices.

SustainLab
Headquarters: Stockholm, Sweden
Last funding: –
Founders: Kamal Hakimzadeh. Maria Svantemark
Sweden-based early-stage Start-Up SustainLab offers SaaS Sustainability Management Software. The platform is aimed at the automation of collection, processing and visualization of sustainability data. Their main goal is to reduce the time their clients spend on data handling and driving positive, sustainable change. SustainLab was founded in 2020, and in June 2022 they announced a partnership with Knowit, a Nordic consultancy firm.
Measurabl
Headquarters: San Diego, US
Last funding round: Series C
Founders: Matt Ellis
Founded in 2013, Measurabl provides an ESG management platform for commercial real estate. This management solution helps companies measure, manage, and disclose ESG performance, act on decarbonization, and assess exposure to physical climate risk and sustainable finance opportunities. Measurabl has customers across 80 countries and helps to manage the data for over 11 billion square feet of commercial real estate. The company secured their Series C $50 million funding in 2021 and was acquired by Hatch Data in April 2022.

ESGgo
Headquarters: Los Altos, US
Last funding round: Seed
Founders: Ido Green, Orly Glick
The newest addition to the list since it was founded in 2022 is ESGgo. The company offers a platform that helps to collect, monitor, analyze and optimize ESG status for enterprises as well as pre-ipo companies. Based in Los Altos, US ESGgo raised $7 million in their seed funding round, and intends to use this money to accelerate recruiting and further expanding their engineering team.