The automotive industry is shifting gears towards a sustainable business strategy that aligns with a new agenda; a green economy. In 2019, investments in new mobility startups increased significantly, totalling $120 billion.
Already we have witnessed the transformation of the industry with disruptors like Uber changing traditional mobility patterns. Over the coming decades, it is thought the car will 'break' away and two-wheeled mobility will take precedent, spurred on by the global pandemic shifting consumer preferences towards health and sustainability.
Today's mobility system suffers from congestion, inefficiency, accidents and high prices; the future promises convenient, safe, and economic mobility, with a renewed focus on health and the environment. We investigate the evolving mobility landscape, looking at what has led the shift towards renewable mobility.
What Has Led The Shift Towards Renewable Mobility?
Mobility leaders have had to reimagine the future of mobility. Recent developments in cities have redesigned car lanes to create more space for bikes and scooters whilst governments have rolled out incentives to encourage carbon-neutral solutions, all of which have played a huge part in driving e-mobility.
Whilst safety will always be a top priority for consumers, preferences are now favouring digital channels and sustainability issues. Micromobility options, such as e-bikes, e-scooters and mopeds are picking up pace and being adopted around major cities in response to this new demand.
Covid-19 has shifted consumers focus toward health and hygiene, altering long-standing habits to avoid infections. Private hire is now the preferred choice of travel compared to sharing rides. As hybrid working models transform working patterns, demand for business travel has lowered, affecting flying, taxis and e-hailing.
Technology will continue to accelerate the rollout, being fundamental in developing connectivity, autonomous driving and urban transport. Regulators have also had a big impact on transitioning towards e-mobility in a bid to reduce climate change by tightening regulations.

The Future Of Mobility
More than 10 million electric cars were on the world's roads in 2020, with sales continuing to soar in 2021. China takes the crown for the largest number of EVs, 4.5 million, whilst Europe wins the race with the largest annual increase at 3.2 million. Besides sales, billions have been invested to deliver new electrified models, refining research and development and improving factory design.
Prior to the emergence of Covid-19, consumer sentiment and policy and regulation have shaped the new direction of car sales. Barriers around cost and driving range are being addressed as EVs are becoming more feasible and reliable. Government policies and incentives via the introduction of zero/low carbon emission zones and a rise of taxes imposed on old combustion engines has also influenced consumers to trust in the transition and invest.
EV Charging
As sales of EVs are rising, concerns are growing around infrastructure keeping up with the pace. In a recent report by McKinsey, consumers rank not having enough access to efficient charging stations as the third most serious barrier to EV purchase.
UK company, Gridserve, launched the first "Electric Forecourt" in December 2020, redesigning the conventional petrol station. The station has 36 charging spaces alongside retail offerings, groceries, coffee and magazines, office pods and well-being spaces. Knowing there is somewhere local to charge your vehicle will encourage communities to transition to electric vehicles. The adoption of this charging station hub will rapidly pick up pace across the world in the coming years, providing more charging options besides from the home and car parks.
E-bikes
Despite e-bikes taking a hit from Covid-19, the e-bike market was valued at USD 23.89 billion in 2020. With a consumer focus on health and hygiene, people are shifting away from using public transport and showing an interest in buying their own means of travel. There is also an emphasis on preserving and sustaining the environment for future generations. E-bikes are seen as the ideal solution to this problem, being environmentally friendly and solving the problem of the daily commute.
E-bikes are looking to transport people in the same way cars and vans do; Cargo bikes have picked up interest from parents to transport children to and from school, whilst covered cargo hubs deliver packages across cities rather than using vans. A sturdy construction, clear turn signals and integrated rain protection make the cargo e-bike both safe and comfortable. City developments will step up as bike lanes increase; which lane you ride depends on the speed at which you cycle, as well as bicycle parking spaces with fast-charging pavements.

E-scooters
Four years ago, shared e-scooters didn't exist. Today, they're on track to surpass half a billion rides globally by 2021.
The UK and New York have legalised e-scooters through the launch of pilot programmes. With 10 million car trips taken every day, they are key cities to target from an environmental and urban mobility perspective. The introduction of e-scooters into these dense areas will influence other countries to adopt, having a dramatic impact on daily commuter habits.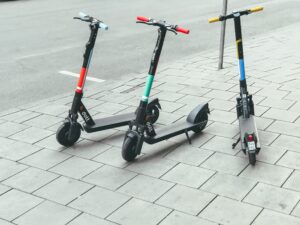 As the industry transforms, the emergence of tech disruptors is rising. If you are looking to scale your team, whether it is to push your brand with a marketing specialist, build your product line or grow your technical team with expert engineering and data professionals, get in touch. Our expert Consultants have a network of professionals with the specialist skills to elevate your startup in a crowded market.