With climate change accelerating, you might find yourself wondering if there's anything we can do in order to stop it. You might already have seen the terms carbon credits, carbon offsets and nature assets floating around the internet space while doing your own research. But what is the difference between them? What do they do? How do they help? Can you get involved as well?
To prevent any more confusion, we at Storm4 created this short, yet comprehensive guide on the difference between these terms, the different companies innovating the terms meanings and how you can contribute to protecting the planet? Are you ready?
So… what's the difference between carbon credits, carbon offsets and nature assets?
Sometimes the terms "credits" and "offsets" are used interchangeably, but they're not the same.
To begin with – carbon credits. Known also as carbon allowances, they work like permission slips for emissions. When a company purchases a carbon credit, most likely from the government, they receive permission to generate one ton of CO2 emissions. When the company ends up with excess credits, they can sell them to other companies.
Carbon offsets are means for companies to trade carbon revenue between each other, and they can be issued by companies that reduce the amount of carbon that is already in the atmosphere. For example, companies that plant trees to reduce CO2 or invest in renewable energy, have the ability to issue carbon offsets. When the company removes a unit of carbon from the atmosphere as a part of their regular business activity, they can generate an offset that then can be sold to others to reduce their own carbon footprint.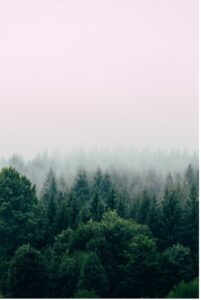 So, where carbon credits are permissions to generate carbon emissions, carbon offsets are issued for removal of carbon already in the atmosphere. Pretty easy, right?
What are nature assets then? Well, as the name suggests, they're literally assets of the natural environment. These consist of biological assets (produced or wild), land and water areas with their ecosystems, subsoil assets and air. Why are they important in this case? It's because many companies offer purchasing nature assets to produce carbon offsets. Companies will offer wildlife restoration projects or reforestation to remove carbon from the atmosphere. They will offer those either to companies and enterprises, to offset their emissions, but to individuals as well who would like to either reduce their own footprint on the planet, or just want to participate in restoration projects.
There is a big division regarding carbon offsets and if they're any good. Dr. William Collins, the director of Berkeley Lab's Climate and Ecosystem Sciences Division is quite skeptical about them, especially the tree-based ones. As he said in relation to the Paris Agreement: "A third of the countries in the Paris accord are essentially saying, 'we won't cut down our forests [and that] is our primary contribution to greening the planet.'"
But there's more than just tree-based carbon offsets, such as atmospheric carbon capture or turning biomass into oil for underground storage.
Because we don't want to leave you hanging around with just the definitions, we prepared a small overview of a few different companies that do that, in case either you or your company would like to participate and help fight climate change!
6 Companies Helping to Offset Carbon and Restore Natural Habitats:
Yes, yes, we just mentioned that tree-based carbon offsetting might not be the best. But Ecotree is more for individuals rather than companies, so we thought we'd mention their work here. Ecotree, based in France, offers a platform that aims at initiating planting of trees. They work on a subscription-based model, and they offer not only forestry projects but biodiversity as well. The forests they work in are predominantly based in France, with some in Denmark, and based on the trees you choose to plant you will be informed in which forest they were planted. If you're a native to France, or plan to have a trip, you can always go and visit your trees! How cool!
Based in Oslo, Norway, Chooose is a provider of subscription services designed to offer individuals and companies monthly subscriptions for climate positivity. The company offers a wide range of projects to support, such as mangrove planting, reforestation, community projects aimed at improving cooking technology or access to fresh water and sustainable aviation fuel just to name a few. Chooose's platform allows business to calculate, track and offset carbon, and it's used by the likes of companies such as Santander bank, Skyscanner and London Heathrow Airport.
Earthly is a provider of another platform that helps businesses invest in natural climate solutions. Based in the UK, they target companies rather than individuals. Rather than calculating and offsetting, Earthly's platform allows businesses to directly invest into projects aimed at restoring nature and removing carbon from the atmosphere. Their projects vary from agroforestry in Kenya, woodland restoration in the UK, drylands protection in Kenya to tropical forest protection in Cambodia. So far, Earthly has attracted customers such as Ruuby, Waterbomb and Garnier.
Berlin-based Klima is a provider of a platform that allows individuals to calculate their carbon footprint and neutralize 100% of their emissions. Their mobile app's user design is very easy to operate! Klima allows the users to invest in a few different projects as a way of offsetting emissions, from tree planting and reforestation to kickstarting solar power projects, ending with social projects focused on providing cookstoves in the less fortunate parts of the planet. So far, Klima attracted users from over 75 countries, and neutralized 75,000 Tons of CO2e.
Estonia-based Single Earth is a bit of a different one, compared to the other companies on this list, by making carbon removal and biodiversity tradable to help save nature. It is done through working with landowners, managers, and organizations that preserve nature through sustainable practices, and then issuing tokens that people can buy called MERIT. One MERIT is responsible for 100 kg of CO2 captured and removed. That ensures the land is preserved, and carbon is removed from the atmosphere! Single.Earth strives to rebuild the entire economy upon nature by introducing the world's first nature-backed currency.
Finally – Land Life Company. Based in Amsterdam, just like our European office, Land Life Company is a provider of reforestation services intended to restore hectares of degraded land. They offer to support projects from all over the world, from Australia to Iceland and China to US. They use advanced technology during their reforestation efforts, such as drones, to speed up the seeding or soil sampling to determine what should be planted where! Not only do they allow individuals to invest in reforestation, but they also work with landowners who'd like to restore degraded land.
Conclusions
Although there is no clear-cut consensus when it comes to carbon offsets and companies offsetting their carbon footprint, individuals investing in reforestation, biodiversity, solar and social projects can be a good way to offset personal footprint. And there are plenty of companies to choose from! Whether offsetting individually or on behalf of your company, make sure whatever projects you invest in align with your values.
Here at Storm4, we work with startups and scaleups in the GreenTech sector wanting to bring a positive impact. Regardless of funding stage and sector you're operating in, we can help you with your hiring needs. As a specialized recruitment agency, we pride ourselves with working with the best talent on the market. Don't hesitate to get in touch in case you're looking for a growth partner in your journey to a greener tomorrow!